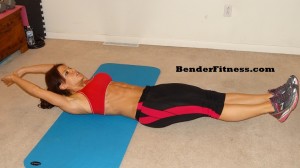 Hi Everyone!
We are nearing the end of the Diet Bet Challenge! Today is Day 27.
Tonight's workout is all about Arms and Abs. This workout targets the key muscle groups from a variety of angles to maximize the benefits. I am often asked for workouts targeting the arms and abs. It's never to early to get started, there is no reason to wait for warm weather to work on your mid-section.
How are you doing with sticking to a healthy diet plan? For many people diet is the hardest part of the equation, but it can result in huge benefits to your fitness, your aesthetic and your health.
Have fun today!
See you tomorrow!
Melissa
PS Don't for get to check in on Facebook, Instagram or Twitter to let me know how you're doing with your goal! I can't wait to see all of the progress pictures!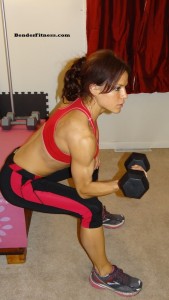 Beginner: 10 reps
Intermediate: 15 reps
Advanced: 20 reps

1. One Minute Plank
2. Tricep Dip with Leg Lift (right)
3. Pump Handle Abs
4. Tricep Dip with Leg Lift
5. Superman Heel Tap
6. Side Plank Hip Lift Reach (right)
7. Side Plank Hip Lift Reach (left)
8. Bicep Curl (right)
9. Bicep Curl (left)
10. Slow Leg Extension Circles
11. Plank Extensions
12. Full Extension Burpee