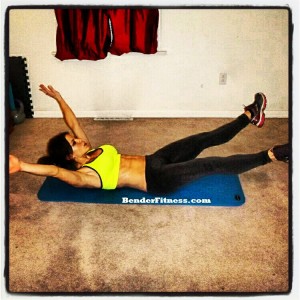 Hi Everyone!
Welcome to Day 10 of the DietBet Challenge! Today's workout is focused on the core. 
Having a strong core is important year round. Your core supports your spine, impacts your balance, and helps maintain the alignment of your hips. If your core is weak your entire body is impacted. 
This workout combines cardio intervals to maximize your fat burn, with strength training movements to work all of the muscles in your core. To reveal your abs it's important to combine both aspects (cardio and strength) during your workout. 
You are currently 10 Days into the 30 Day Challenge! I hope you're feeling stronger and healthier than ever!
Enjoy!
Melissa
Beginner: 10 reps, 30 seconds timed
Intermediate: 15 reps, 45 seconds
Advanced: 20 reps, 60 seconds
Repeat 1-3X
1. Mountain Climber
2. Leg/Hip Lift
3. High Knees Toe Tap
4. Ab Angel
5. Mountain Climber
6. Tricep Leg Lift
7. High Knees Toe Tap
8. Russian Twist
9. Mountain Climber
10. Rotating Side Plank Leg Lift