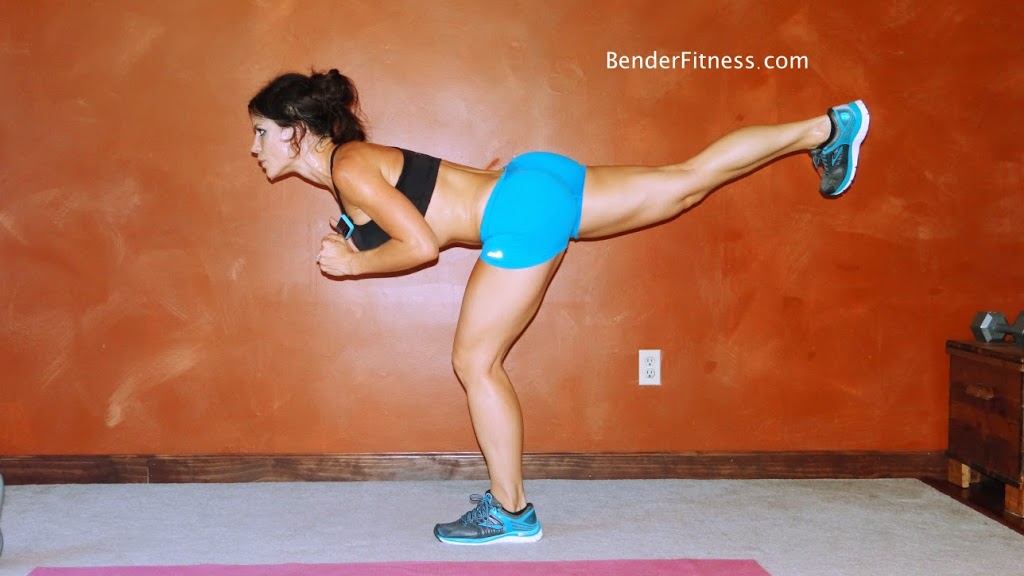 Hi Everyone!

Welcome to today's workout! I hope you are ready to work your lower body, and burn some fat. This workout had me sweating and breathing hard. Today, I can feel the workout in my inner thighs, hamstrings and glutes. 🙂 I feel wonderful and even a little bit sore today from this workout!

I got a lot of flack on Facebook for my form during the Kettlebell Swings in the Instagram sneak peek video that I posted. I pride myself on using proper form so I am posting a link here to Prevention Magazine's article on proper form for the kettlebell swing.  You can find a great video tutorial here. 

I performed this movement with to much knee flexion which is actually a Squat and Swing. As you can see in the photo below, the focus is on moving the hips forward and backward, with limited knee flexion.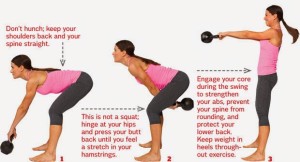 I apologize for the inaccuracy. I will most certainly be working on my form with this exercise. 
Prior to completing this workout I did one mile at a challenging pace on the treadmill (6 minutes and 33 seconds). I am determined to improve my running speed this year!
Have fun with today's workout! It's a really good/challenging routine. 🙂 
Melissa
PS You can find me on Facebook, Instagram, Twitter and Pinterest. Jesse has also been posting sneak peek workouts moves/tutorials on his Instagram page. 
Click the link to get your own Gymboss Interval Timer!
Set your timer for 10 rounds of 30/50.

*During Each 30 Second Cardio Interval complete the Kettlebell Swing, High Knees, Jump Rope or Ropeless Jumping.

-Cardio Interval
1. Jump Squat
-Cardio Interval
2. Warrior Kick (right)
-Cardio Interval
3. Warrior Kick (left)
-Cardio Interval
4. Pendulum Chair (right)
-Cardio Interval
5. Pendulum Chair (left)
-Cardio Interval
6. Plie Jump
-Cardio Interval
7. Runners Lunge Lift (right)
-Cardio Interval
8. Runners Lunge Lift (left)
-Cardio Interval
9. Table Leg Abduction (right)
-Cardio Interval
10. Table Leg Abduction (left)

Repeat 1-3X