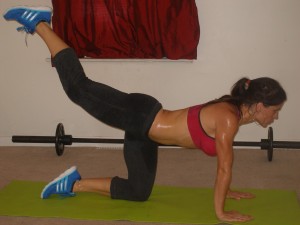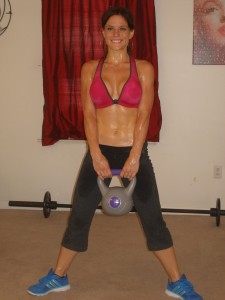 Hi Everyone,
I have a brand new butt/lower body workout headed your way for the 30 Day Challenge. In the mean time this is one of my favorite workouts for sculpting your tush. This workout incorporates exercises that have been scientifically proven to be the most effective at activating all of the muscles that make up your butt. The number one, BEST, exercise for your butt is the one legged squat. It's tough, but I show some variations in the video.
This workout will help lift, and shape your bum and thighs.
I will work on getting the newest workout video up when I get home from work. 🙂 Don't forget to check in on Facebook and enter my giveaway contest for your chance to win a
Gymboss Interval Timer
.
I hope you guys enjoy the workout!
Melissa
Beginner: 10 reps
Intermediate: 15 reps
Advanced: 20 reps

1. 1 Leg Squat (right)
2. 1 Leg Squat (left)
3. Plie Squat (with or without weight)
4. Step Up (right)
5. Step Up (left)
6. Plie Jump (with or without weight)
7. Warrior 3 Crunch
8. Heel Press/Extension (right)
9. Heel Press/Extension (left)
10. Pendulum Squat
11. Romanian Deadlift
12. Weighted Squat

Repeat 1-3X