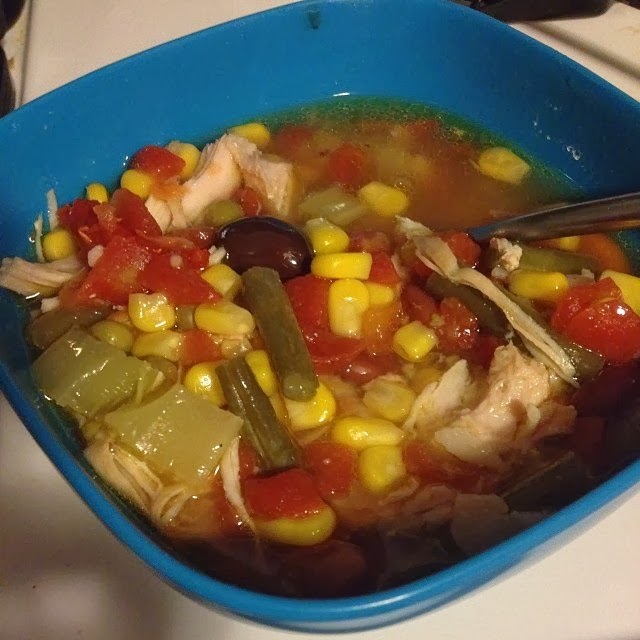 Hi Everyone,
I love soup at any time of the year. It's delicious, relatively easy to make, and you usually have left overs. This winter has been exceptionally cold (wind chills between -15 to -20 degrees Fahrenheit).
I used my crockpot for this recipe, but it can also be cooked on the stove. When I was cooking I didn't measure the ingredients, but I will give rough estimates below. If you like a broth-ier soup decrease the additions and/or increase the broth and water. As you can see from the picture above I like my soup full of ingredients.
I used the vegetables that I had on hand, but you can always switch it up and vary the vegetables. Feel free to experiment!
Enjoy!
Melissa
Ingredients:
-Chicken Breast (about 1.5-2 lbs).
-4 to 5 cups Organic Low Sodium Chicken Broth
-1 cup water
-2 to 3 teaspoons minced garlic
-1 Tablespoon Olive Oil
-1 Tablespoon Balsamic Vinegar
-diced tomatos (if using canned try to find organic no salt added diced tomatoes).
-2 Cups frozen Corn
-1 Cup Green Beans (fresh or frozen)
-2 Stalks Celery chopped
-2 to 3 carrot sticks chopped
– 1/2 Cup Kidney Beans (I used canned, thoroughly rinsed)
-1 Cup Peas
*Optional: 1-2 teaspoons diced jalapeño or jalapeño seeds for a spicier soup and/or sun dried tomatoes. (I didn't have onion on hand, but I would have added diced onion as well).
*As noted above, feel free to vary portions to achieve desired soup density.
Directions:
1. Pour broth and garlic into crock pot.
2. Add Chicken (You can pre-cook the chicken or add it raw. Raw chicken will require longer cooking time). There should be enough liquid in the pot to cover the chicken.
3. Add Water, Olive Oil and Balsamic.
4. Add Vegetables.
Cover and cook. Chicken should easily fall apart or be pulled apart when the soup is fully cooked.
Additional spices you may enjoy: 1-2 Bay leaves, thyme, oregano.
*For Raw Chicken Cook on High 4-5 Hours in crock pot or on Low 8-10 Hours.