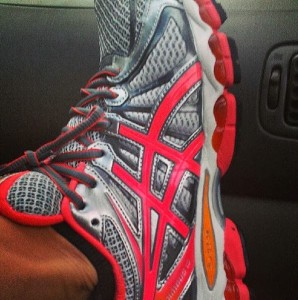 Hi Everyone!

My half marathon is 2 weeks and 2 days away! It is coming up fast!
This was my mileage from my first week of training: My First Half Marathon Training.

I have continued training. All of my workouts are below.

Remember when running it is important to have a diet that supports your increased activity level. Carbohydrates are fuel for running. Carbs come in many forms: fruits, veggies, wheat, grains, etc. Be sure you are getting enough! Protein is also imperative for sustaining your endurance, and preventing muscle breakdown. Longer runs require more than just a strong cardiovascular system, it takes muscular strength and endurance. Food=Fuel. Make good choices!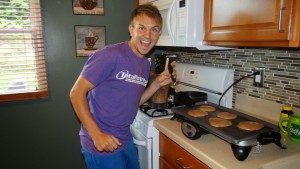 Jesse making Protein Pancakes
I will also be posting about shoes. I had to switch mine, because the first pair I got was to large. My feet were sliding, I got blisters, and soreness in my right arch. Remember to pay attention to your body's signals. I returned my shoes (good running stores typically have a 30 day return policy), and haven't had any issues since upgrading to the proper size.
My mileage and workouts are below. I had to modify my plan slightly due to the soreness in my arch. Keeping my body healthy and well takes priority. 🙂

Tuesday: Cross Country Challenge with 2 Mile Cool Down5 Exercises to Strengthen Your CoreRun: 2.5 Miles at a challenging pace on a hilly cross country course. 2 Mile cool down, easy pace on the same course.
Wednesday:Stretching for Runners: IT Band, Shin Splints, Hip Flexors, Back3.1 Mile Walk on treadmill
Thursday:Off(*The arch of my foot was tender and I took 2 days off to heal).
Friday:Off
Saturday: Easy Mileage BuilderSweaty 2 Sculpted: 10 Minute HIIT4.52 Mile Run at a comfortable pace
Sunday: Longer Day with Sprints7.65 Mile Run at a comfortably challenging pace followed by three sprints.
Monday: Easy RecoveryLower Body Shape and Strengthen3.1 Mile Run Easy Pace
Tuesday: Interval Run with Heart Rate Monitor4.68 Mile Interval Run-5 Minute Warm Up-5 Minutes Hard Pace-5 Minutes Easy-5 Minutes Hard-5 Minutes Easy-5 Minutes Hard-10 Minute Easy
Followed by 5 Minutes walking for cool down.
Wednesday: Easy with Downhill Training4.57 Miles at a Comfortable Pace with Downhill Training
*Training to maintain level of effort during downhill running. This will improve your overall race time, without consuming additional energy. Practicing downhill running can improve your running efficiency, and utilizes momentum. Be careful, you should always be in control of the movement, and run perpendicular to the ground.
Thank you to everyone who has sent me race pictures on my facebook page! 🙂 Melissa