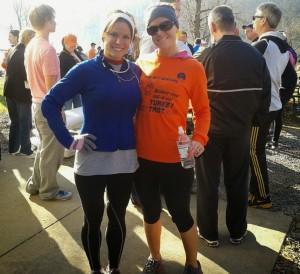 Thanksgiving 2012: 5 Mile Race with my sister.

Hi Everyone,

At the start of the year I made a list of goals that I wanted to achieve this year. Check out the post here: Setting Goals for Success: Fitness and Life. Somehow my goal to do a half marathon didn't make the original list (maybe I was afraid to commit to the training! Once I write things down there is no turning back!)

Next month my goal is becoming a reality. I have signed up for a Half Marathon on October 19th. I already know that this isn't going to be my best race time-wise. Over the past several months life and obligations have significantly decreased my training, and my running has been practically nil. My speed isn't where it has been in the past.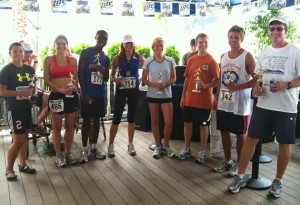 5K Race: Jesse-First place overall. Me-4th place female overall.
Guess what? I'm okay with that. I will not use it as an excuse to miss out on something I want to do. I will use this race as a starting point to see where I am, and set a time goal for my next race. Due to consistently training over the past several years I know that I can handle the distance. I have come a long way since I first started running: Running Made Me Cry…How I became a Runner.

Running, especially running longer distances, makes me feel strong. It makes me feel that I am capable of anything, and no matter what comes my way I can handle it.

In preparation for this race I am increasing my running mileage. I am including one long run per week, 1 speed day, and several easy runs.

Over the past week and a half this is what my running schedule looked like:
(*This mileage is appropriate for someone who has established and progressively increased their mileage. I will be sharing a running plan for beginners soon!)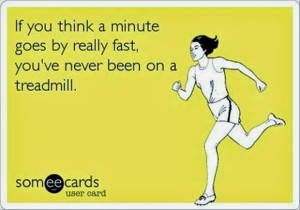 Sunday: Speedier Treadmill Day + Lower Body Blast: Shape, Burn and Sculpt
1 Mile-7 Minute Pace
rest
1 Mile-7 Minute Pace
rest
1 Mile Speed Walk-12 Minute Pace (I think running was easier!)
5 minute cool down

Monday: Rest Day

Tuesday: Easy Mileage Builder +Quick Stomach Toning Workout
6.03 Mile Run Outside at a comfortable pace.
Total time: 53 Minutes, 5 seconds.

Wednesday: Treadmill Run Mileage Builder
*During treadmill runs I increase the incline to approximately 2% to prevent back strain/injury.
3 Mile Run Comfortably Challenging Pace
Total Time: 23 Minutes, 40 Seconds.
1 Mile Speed Walk: 12 Minutes, 35 Seconds

Thursday: Cardio Cross Training
10 Minute HIIT Cardio Interval: Sweat Not Tears Repeated 2X
Friday: Rest Day

Saturday: Cross Train/Trying Out My New Running Shoes
Low Impact Body Sculpt: Tummy and Tush
Treadmill-with 2% incline.
1 Mile Run: 7 Minutes, 24 Seconds
.75 mile walk: 10 Minutes
1.25 Mile Run: 10 Minutes
.5 Mile Walk Cool Down
Sunday: Long Run Day-Outside
10.04 Miles at a Comfortable (Talking) Pace
Total Time: 1 Hour, 27 Minutes

Monday: Easy Miles-Outside
4.02 Miles at a Comfortable Pace
Total Time: 35 Minutes

Today is Tuesday and I will be posting a new workout tonight, and updating my training schedule so be sure to check back! 🙂

If you are racing or training for an event I want to hear about it! Let me know at: Melissa Bender Fitness: Facebook
See you soon,
Melissa