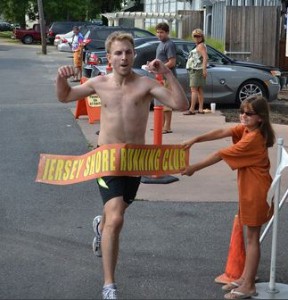 Running is a Building Process, NOT an APP
By Jesse Bender
Running is a building process. You do not simply add a running APP to your device and think you can clock a 15 min 5k (with or without your car). You find where your beginning base is and you build upon it….by RUNNING. Every single person has different running capabilities. You find your base and you strengthen that level of endurance bit by bit to reach YOUR goals. Once you accept that you must build yourself towards your running goals, then you're mentally ready to handle the challenges that you'll face as a runner.
How do I find my base? You find your base by running (preferably with someone else during the beginning stages for safety-sake) a shorter distance; say 1-2 miles (4-8 laps on a 400 meter track) or go for about 10-20 min on a treadmill.
When you run, make sure the pace is easy enough on you that you could carry a conversation. Pay attention to how you feel every step of the way! If you feel overwhelmed and need to walk…guess what you future running badd-arse, WALK! DON'T LET YOUR PRIDE DECIDE!!!! Switch between walking & running to accomplish the distance. You can try the 50/50 technique to build-up Do NOT try to compete with someone else! This is all about YOU! Finish the distance, and if you have a heart-rate monitor by golly-gee use it use it use it use it!! When you see how you feel at the end of the run, you can now establish your base.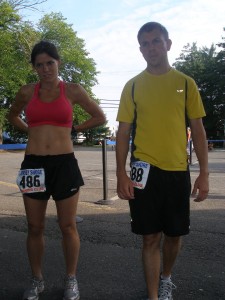 Your next few weeks will be focused on building that endurance to handle the mileage. "Ok, what the heck does that mean?" It means, do NOT focus on running sprints just yet. During your beginning phases to BUILD, work on building your endurance to be able to RUN as much of a goal distance. For instance, if you are going to be running a 5k in 2 months but, you've never ran more than an aisles-length at Wal-Mart to grab the last box of Cracked-Pepper Triscuits, then use that first month to build your running-endurance to be able to run for 3.1 miles. Again, if you NEEDED to walk at any point during the race, JUST walk! Running is a building process, so aim to complete a 5k without walking for your Next race! Back to the point, each week (using that first day 1-2miles or time on a treadmill as your basis) incorporate some days to run for shorter distance and some to run longer until you've reached running for a full 5k.
Running is a constant building process. Whether this is your first running plan or if you are getting back into the sport from a 10 year hiatus, it doesn't matter. The rules remain the same for EVERYone! Find you base, build up that base, and keep challenging yourself to go further & faster. Please, feel free to message us about any running questions/comments/concerns/ideas! We LOVE to meet new people and help them reach fitness goals! See you at Benderfitness.com, and on Facebook at Team Bender and Melissa Bender Fitness !!!