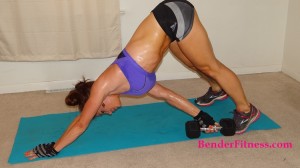 Hi Everyone!

Do you have 10 minutes to get a stronger, healthier, more toned body? 🙂

One round of this workout takes only 10 minutes, but it should get you sweating. If you have time you can repeat the workout, or even break it up and go through it a couple of times throughout the day.

We are all busy, but it's important to take time for your own health. I read today that consistent exercise adds an average of 7 quality years onto your life. That's a pretty major statistic.

🙂 Enjoy the workout!
Melissa

PS I used dumbbells in this workout. If you don't have any you can complete the exercises with body weight only, with canned soup/veggies, or even a water bottle or milk jugs.
Beginner: 30 seconds max reps, 15 seconds rest
Intermediate: 45 seconds max reps, 10 seconds rest
Advanced: 50 seconds max reps, 10 seconds rest

1. Frogger Row
2. Twisting Dumbbell Hop
3. Romanian Warrior
4. Weighted Toe Touch Abs
5. Goblet Squat
6. Weighted Toe Tap or Weighted High Knees
7. Alternating Side Plank
8. Squat and Press
9. Temple Tap Abs
10. Down Dog Weight Drag