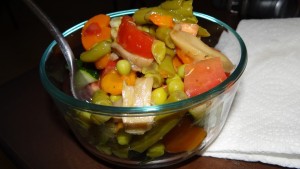 Hi Everyone!

I was in a rush the other day so I threw together a healthy, bean and vegetable salad to keep in my refrigerator as a quick side (or meal).

I used a combination of canned and fresh vegetables. If I had more time I would have run to the grocery store and used all fresh vegetables, but I needed something I could throw together quickly.

You can be creative with this recipe, and use any vegetables you like. Usually I throw in some black olives, but I didn't have any on hand.

Vegetables should make up approximately 50% of your meals. If you're not getting that amount it helps to start planning ways to add vegetables to your diet. Remember, vegetables are high in fiber, so you will need to increase gradually to prevent stomach discomfort.

Ingredients: (All canned items can be substituted with fresh veggies)
1 can snow peas
1 can cut green beans
1 small can sliced mushrooms
1 can sliced carrots
1 can kidney beans
3 Roma tomatoes (diced)
1 cucumber (cut and sliced in half)
Fresh thyme, basil and oregano
3 tablespoons Italian Dressing (or flavor to taste)

Optional ingredients:
Olives
Feta Cheese
Salt and Pepper

Combine all ingredients in a large bowl. Stir or shake (I use a bowl with a snap on lid and shake to ensure the ingredients are combined, and everything is coated with the spices).