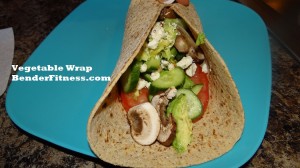 Hi Everyone!
I have been veggie obsessed lately! Salads, sandwiches, wraps. I just can't seem to get enough veggies.
In honor of Earth Day I wanted to share some vegetarian recipes. This was my lunch yesterday (and very similar to my lunch and afternoon snack today!)
It's easy, quick, healthy and filling. You can use any vegetables that you want, and if you leave off the feta it's vegan.
Ingredients:
-Wrap of Choice (this is also delicious on Ezekial Bread or whole wheat)
-Sliced Tomato
-Baby Bella Mushrooms (sliced)
-Diced Avocado (hummus can be substituted)
-Mini Cucumber (sliced)
-Tomato Basil Feta Cheese (optional)
*I would have added fresh baby spinach, but I was out. Artisan Lettuce is also good.
Add all of the veggies to your wrap, fold up and enjoy.
Today I brought a large salad to work with most of the same ingredients, a whole wheat sandwich thin, and a triangle of spreadable cheese. I ate half of the salad for lunch, and had the rest on a sandwich with the cheese as an after work snack. It was delicious, satisfying, and best of all my stomach felt great after eating it! (As someone with food allergies/sensitivities this is a huge bonus!)
Enjoy!
Melissa