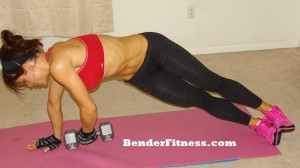 Hi Everyone! 

It's been a busy night for me! I got home from work and then headed straight over to the college where I teach Boot Camp and yoga. 🙂 It was a Boot Camp night, and Jesse and I put the class through a tough workout! We did a variation of the Summer Ready Tummy Workout. For the class we started and ended with Burpees, and did the entire sequence interval style. We went for maximum reps during each 60 second interval, with 20 seconds of high knees between each exercise. We repeated the entire sequence twice, with a short rest in between. 

It was a great workout, and no one left the room without being covered in sweat (myself included. I posted a picture on my facebook page)!
In other fabulous news you can check out an interview with me on Fitness Magazine's Website!!!! I won the reader's choice award thanks to all of you! You can check the article out, and read about the other finalists here: Fitness Magazine: Face of Fitness
Tonight's workout is a quick challenge. One round takes around 10 minutes. I incorporated weights, and compound movements to increase the challenge and burn. 🙂

Enjoy and I will see you tomorrow with a brand new workout!
Melissa




*10-15 reps per exercise. Repeat 1-3X. 

1. Squat Press
2. Warrior Row (right)
3. Warrior Row (left)
4. Squat Reach
5. Weighted Ab Heel Tap
6. Side Plank Reach (right)
7. Side Plank Reach (left)




*This is the basic workout that we did in our Boot Camp Class Tonight. We added one minute of Burpees to the beginning and ending of the workout, and completed it interval style (instead of the repetition version in the video). It was a great burn!