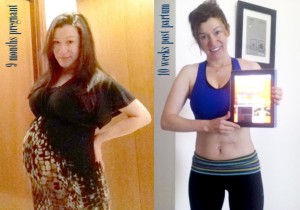 By far my favorite part of having my blog is when people share their progress pictures with me! Today I have the pleasure of introducing you to Meg. 
Meg is a full time graduate student. She is studying to be a nurse practitioner. She also works as an RN, and is the mom of a beautiful 10 week old baby! She is very busy, and doesn't have hours per day to spend working out. 
Meg said: "Needless to say, I don't have much time or energy to spare these days. My husband found your page for me, and the short, intense, no-equipment-required workouts get results and fit my schedule. I still have a long way to go on my fitness journey, but your page is a valuable resource that I now recommend to friends and patients alike."
In picture number one Meg is 9 months pregnant and weighs 145 pounds. In picture two (taken yesterday) she weighs 115 pounds. 
Meg and her family are about to embark on an exciting trip, and during it she is going to continue to challenge herself with my workouts. She is going to send in another picture in about a month to show us her progress. I can't wait to see her continuation of her fitness journey! What better gift can you give yourself, and your family than increased health and energy? 
Meg's Workouts: 
"I mostly followed your bikini competition prep month 1 schedule (working at the intermediate rep/time recommendations, usually repeating twice). I also did the fitness transformation workouts because I found if I was cheering for Josh there were fewer thoughts dedicated to my own struggles/discomfort . My favorite workout so far though has been the 10 minute quickie posted this week; I loved the burn from the side step leg lifts!"
Congratulations Meg and thank you for sharing your journey! You're an inspiration. Stay strong, healthy, and fit!