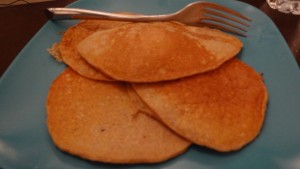 Hi Everyone!
Although pancakes are traditionally a breakfast item, Jesse and I had them for dinner last night. We made delicious protein pancakes. They were easy and quick, and had over 28 grams of protein per serving. 

Jesse said that if I hadn't told him he wouldn't have noticed a difference from this recipe, and traditional pancakes. Normally I like my pancakes with some peanut butter, but these had such a delicious flavor that I didn't need to add anything!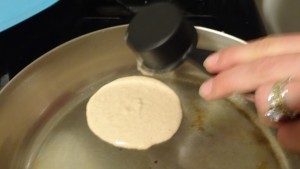 I am posting two recipe options. One option uses cottage cheese and oatmeal, and the other option is Gluten Free and uses protein powder. My protein powder of choice is Nutracore Lean Active 7 Vanilla Protein. (I get it from Total Nutrition Mansfield). Both options are delicious. This recipe is worth repeating so you can always try it both ways, and decide which you like better!

Cottage Cheese Pancake Ingredients:
-1 Cup Dry Rolled Oats (Last night I ran out of traditional oats so I used two packets of Maple Brown Sugar Oatmeal). 
-6 Egg Whites
-1 Cup Cottage Cheese
-1 teaspoon cinnamon
-1 teaspoon vanilla extract

Directions:
Put all ingredients in blender. Blend until smooth.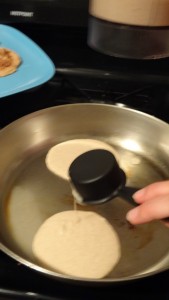 Heat pan over medium low heat, and lightly spray or coat pan to avoid pancakes sticking. I measured out 1/4 cup of batter per pancake. When pancakes start to bubble they are ready to be flipped. Cook until golden brown. 

 When you flip your pancakes they will look just like traditional pancakes! I thought they tasted even better! I didn't even need to add syrup to my pancakes. Jesse had his pancakes with Maple Syrup.

This recipe makes about 10 pancakes. It makes two to three servings. 
Gluten Free Protein Powder Pancakes: 
-1/2 medium banana
-1/4 cup egg whites
-1 Scoop Vanilla Protein Powder (I use Nutracore Lean 7 Vanilla, it would probably be delicious with the chocolate as well)
-1 tablespoon ground flaxseed
-1 teaspoon cinnamon
-1 teaspoon vanilla extract
Blend all ingredients in a blender, and cook the same way as the cottage cheese pancakes. Enjoy!