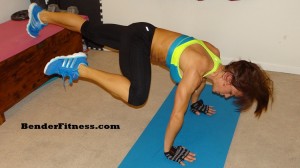 Hi Everyone!
This was my workout last night. It is a full body workout. I worked my arms, legs, abs and back, while incorporating some moves to increase heart rate for the cardiovascular benefits.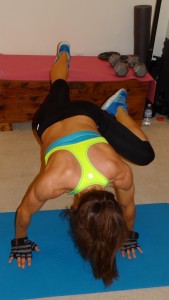 Decline Spiderman Plank
Tonight I am teaching a yoga class, so I won't be able to post a new workout. There will definitely be a new workout tomorrow. I will also be posting another recipe, and my review of the protein muffin mix I tried out this week. So plenty of things will be up for all of you weekend warriors out there! Is there a recipe that you would love to find a healthy version of? If so, please take a moment to post in the comments section below, or tell me on facebook. I love trying out new recipes, and substituting things to create a healthier alternative.
I hope that you all enjoy the workout! Have a great night!
Melissa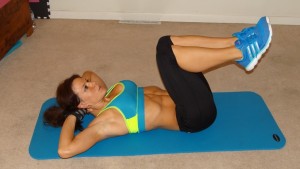 Beginner: 10 reps, 30 second timed exercises
Intermediate: 15 reps, 45 seconds timed
Advanced: 20 reps, 60 seconds timed

1. High Knees (timed)
2. Plie Squat Stretch
3. Mountain Climber (timed)
4. Tick Tock Abs
5. Frog Hopper
6. Angel Abs
7. Decline Spiderman
8. Russian Kicks (timed)
9. Reverse Crunch Lift
10. Bridge Rock

Repeat 1-3X

*I went through this once, and followed it with 30 minutes of walking at a moderate pace (no incline) on the treadmill.