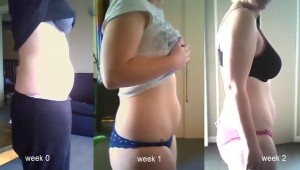 Hi Everyone!
One of my absolute favorite things about my blog, is getting the chance to see people's progress pictures and hear their success stories!
Karissa sent me a great message, sharing her story and her photos. Karissa has lost over 5 kg (about 11 pounds) over the course of three weeks by incorporating my workouts. 
In the first picture (Week 0) Karissa had already been doing running and walking. She had some results, and noticed that her stomach got smaller. For the photos in weeks 1 and 2 she started following my workouts, and got the amazing results you see above! 
I want to thank Karissa for sharing her photos. It is inspiring to see someone set a goal, work hard, and achieve what they are working for. She made the effort, and the outcome speaks for it's self! She looks stronger, more toned, and more fit. 
Congratulations Karissa! Your hard work has paid off! 🙂