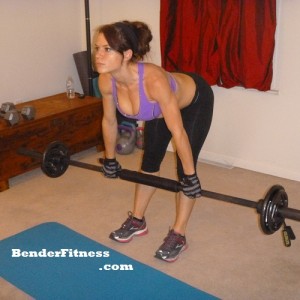 Hi Everyone,
This was part of my workout last night. I had a fun workout planned for today, but unfortunately I have to delay it until tomorrow. I did get in a 3.5 mile run outside today. It was in the high 40s here, and there was sunshine, so I had to take advantage of the weather.
Sunshine makes me feel more appreciative of running outside. Also, it was nice not to have to run through 6-7 inches of snow. Most of my run was done on solid ground!
For this workout I utilized weights. It was nice to change the type of challenge I was engaging in for my workout. Yesterday I also shared Josh's first workout video: Fitness Transformation: Workout 2
Josh did a really great job, and I gave him a new workout to do today, which I will be sharing later.
Enjoy the workout,
Melissa
Beginner: 8 reps
Intermediate: 10 reps
Advanced 12-15 reps

1. Squat
2. Bulgarian Split Squat (right)
3. Bulgarian Split Squat (left)
4. Good Morning
5. Curtsy Lunge (right)
6. Curtsy Lunge (left)
7. Romanian Deadlift

Repeat 1-3X

*I followed this workout with 3 miles on the treadmill. I did intervals, and the entire run took me 23 minutes, and 30 seconds.