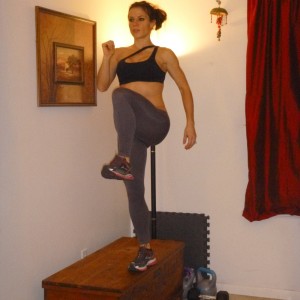 Hi Everyone!
Today's workout is posted below. It felt great to be back to working out! It can be really tough to fit exercise in during the holidays. That is why I put together the blog post: 6 Workouts That Take 15 Minutes or Less
Today I did an interval workout. One round takes 12 minutes to complete. This workout can be repeated up to 3 times. It's great for fat burning, and all over toning.
Jesse and I also did a 3.5 mile run outside. It was really tough running uphill in the snow. None of the snow was packed down yet, so the run was more difficult.
I hope you all have a wonderful evening, and enjoy the workout! See you tomorrow with a new one!
Melissa
All Levels: Max reps during each 50 second interval, 10 seconds of rest between exercises

Repeat: 1-3X

1. Slow Mountain Climber
2. Mountain Climber
3. Bird Dog Row (right)
4. Frogger
5. Bird Dog Rose (left)
6. High Knees
7. 1 Leg Lunge Twist (right)
8. Side Step Up (right)
9. 1 Leg Lunge Twist (left)
10. Side Step Up (left)
11. Prone Heel Tap
12. Ninja Jump