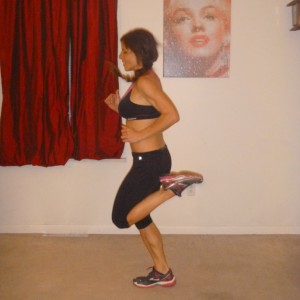 Hi Everyone,
Tonight I filmed a pre-and post-running workout. You can do this workout on it's own repeating it 1-3X, or you can do this before and after a cardio workout. (Don't want to run? There are other options. Check out the Cardio section of my blog.
It's important to warm up your muscles before you engage in cardio. Core strength is imperative to maintaining correct posture during running and exercise. These exercises will engage the muscles needed in running, and will work all of the major muscles of the core.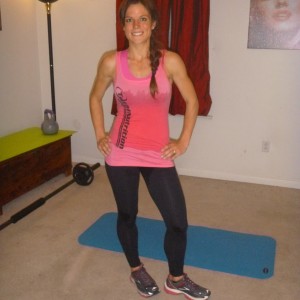 Sweaty Post-Run
Jesse and I did a 6.75 mile run outside tonight. We went at a an easy pace. My inner thighs and my tush were still a bit sore from Friday's workout: Shape Your Body. Maybe it should have been called the Shape Your Booty workout. Running helped ease and loosen up my muscles, and they are feeling much better.
This is a snap shot of my run tonight. Miles 3 and 4 were uphill. Mile 4 was VERY steep uphill.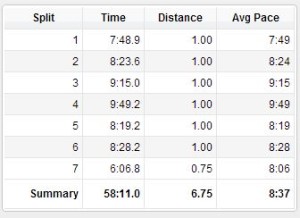 I will be back with a new workout tomorrow. I hope you all have a great night!
Melissa
Beginner: 10 reps
Intermediate: 15 reps
Advanced: 20 reps
*For timed exercises, maximum reps during each 60 second interval.

1. Runners Lunge
2. Bicycle*
3. Side Crunch (right)*
4. Side Crunch (left)*
5. Reverse Crunch*
6. Butt Kicks*
7. High Knees*
8. Lunge Kick (right)
9. Lunge Kick (left)
10. Leg Swings