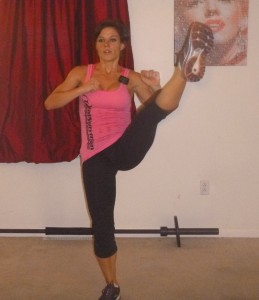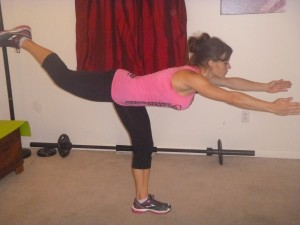 Hi Everyone, 
Tonight's workout is fun but tough! As always, the video is below. The total workout takes 21 minutes. Each round is 7 minutes, and you repeat the workout three times. Immediately after my third round Jesse and I went out for a run. 
I wanted to run 5-6 miles, but it was really cold when the sun started going down and Jesse and I both wore short sleeves. So we cut the run a little bit short, and completed 4.67 miles.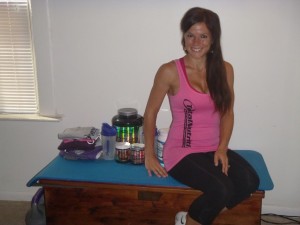 I have a new sponsor, you can like their facebook page here, Total Nutrition Facebook and you can find their website here: Total Nutrition. They sent me a big box of loot, including the shirt that I wore in tonight's video. I am loving the shirts, they are cute and ridiculously comfortable. 
They also sent me some great vitamins, protein, and more so I will be sure to let you guys know what I think as I start incorporating this into my routine. I love the water soluble multi-vitamins, and the vanilla protein tastes like a milk shake!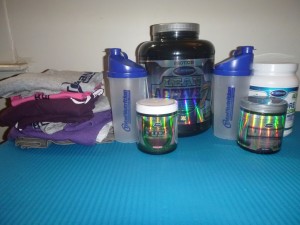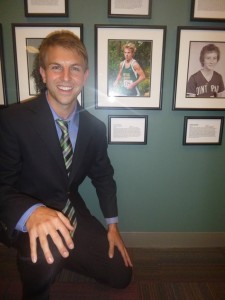 Jesse with his picture in Point Park University's Athletic Hall of Fame. 
Also, Jesse's official induction into Point Park University's Athletic Hall of Fame was last night. He made an amazing and inspiring speech. He motivates me to work my hardest every day. 🙂
I hope you guys have a great workout! Get out there and motivate someone today (self-motivation counts too!)
Melissa
All Levels: Maximum number of reps during each 50 second interval. 10 seconds of rest in between each exercise. 

Repeat 3X.

1. Warrior 3 Squat Pulse Right
2. Warrior 3 Squat Pulse Left
3. Mountain Climber
4. Temple Tap V-Up
5. Alternate Round Kicks
6. Side Step Plank (right)
7. Side Step Plank (left)

Try to move through the rounds as quickly as possible. Push yourself, but always listen to your body.