Hi Everyone,

Today I interviewed Michael Prest. You might remember him from the Target: Tummy Tightening workout video. When we filmed the Tummy workout Michael briefly mentioned that he was training for a body building competition.

You can tell from the progress pictures above how much hard work Mike put in, and what great results he got. Those results paid off on stage, when Mike won first place in his division at the NPC Elite Physique competition!!!! Go Mike!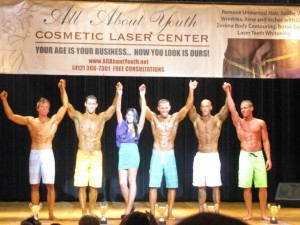 Michael Prest on Stage at the Elite Physique Body Building Competition
In my interview Mike talks about his training, his diet, and the most challenging aspects of getting
ready for a competition. This was his second competition, and he discusses how his training changed from his first competition to his second.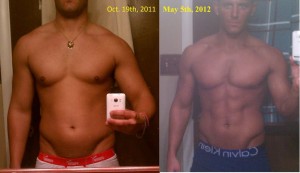 Starting Point to Mike's First Competition
From the competition in May, to his second competition in September, Mike was able to progress even further with his goals, and build.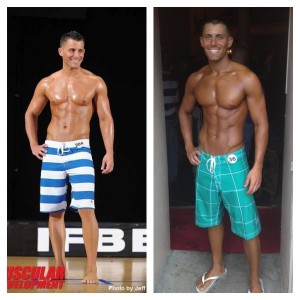 First Body Building Competition Photo (May), Second Competition Photo (September)
If you have ever wondered what a competition was like check out the video. If you have questions that I can pass on to Mike post them in the comments below.
I was very intrigued by the competition diet. So it was very interesting to talk about what that was like, along with the physical aspects of his training.
I hope you guys enjoy the interview! Is anyone motivated to get on stage now?
Melissa