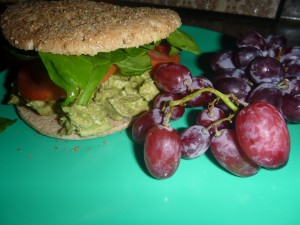 Avocado Curry Chicken Salad: Delicious, Healthy Recipe
I love chicken salad, and egg salad. What I don't love is the high fat and calorie count that is in typical chicken salad recipes. In fact, I'm not a fan of mayonnaise at all. I was thrilled to try out this healthy alternative to using mayo in my chicken and egg salad recipes. 
Typical Chicken Salad: Calories 417 (not including bread, 517 with sandwich thin), Fat 31.5 g, Protein 29.4 g.
Chick-Fil-A Chicken Salad Sandwich: 510 Calories
Panera's Napa Almond Chicken Salad Sandwich: 690 Calories
Compare that to today's recipe:
Avocado Chicken Salad: Calories 278 (378 with a sandwich thin), Fat 12 g., Protein 38 g.
*This recipe makes 2-3 servings.
What you need:
2 baked or grilled boneless, skinless chicken breasts cubed (about 8 oz.) *You can also use two boiled or baked eggs if you prefer to make egg salad. Both styles are delicious!
1/2 avocado
2 tablespoons 0% Fat Free Plain Greek Yogurt
1 teaspoon green curry paste (optional, or season to taste-this amount will make the sandwich a bit spicy). You can also use regular curry seasoning, but this is a strong flavor, so start out light, and increase as desired.
Bread or wrap of Choice. I used a whole wheat sandwich thin today, and a 90 calorie whole wheat wrap yesterday.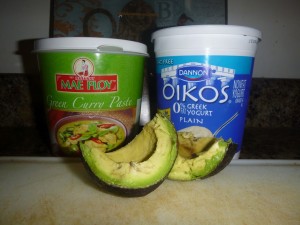 Green Curry Paste, Avocado and Greek Yogurt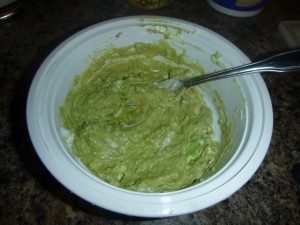 Avocado, curry, greek yogurt mixture. 
Smash Avocado and mix with 2 tablespoons of Greek Yogurt, and curry paste (optional).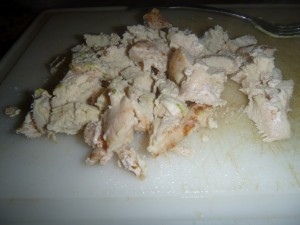 Chopped Chicken Breast.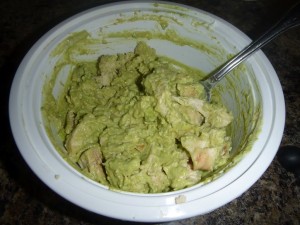 Avocado Curry Chicken Salad with Greek Yogurt. 
Add diced chicken (or egg) to the avocado, curry, greek yogurt mixture, and stir until evenly coated.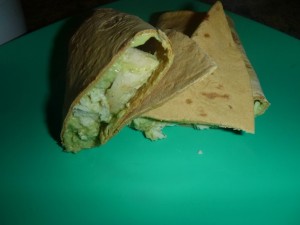 Avocado Curry Greek Yogurt Chicken Salad Wrap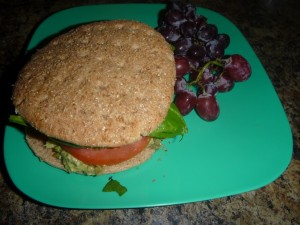 Avocado Curry Greek Yogurt Chicken Salad Sandwich with Grapes
This is delicious on a wrap, or sandwich. It's quick, easy, filling, and tasty! I made extra yesterday so I would have some on hand for a quick and easy lunch today. It was delicious with grapes, spinach leaves, and 2 slices of tomato.