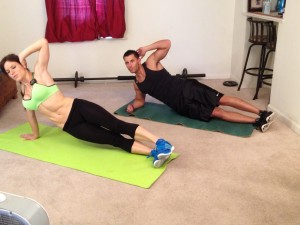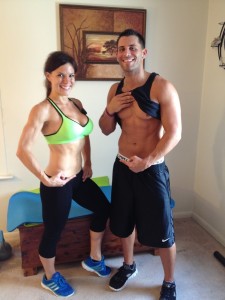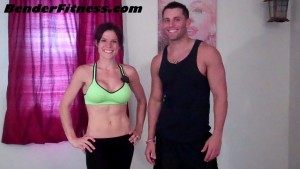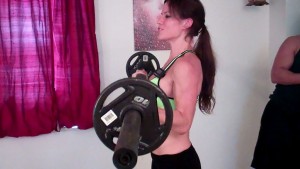 Hi Everyone,
I was joined by a special guest again today. Our guest is Michael Prest. You can follow him on twitter here. 
Mike is training for an NPC Body Building Competition and is currently lifting 5X per week. Mike worked legs yesterday so we focused on abs today. We did plenty of cardio based moves to help burn fat, and strengthening/toning exercises for your entire core. 
Mike started using my weight to do bicep curls, so I decided to try it out (as you can see in the second picture above). I was able to do a few curls with 65 pounds. Mike made it look much easier than it really was! 
I hope you guys enjoy! There will be a new workout tomorrow so be sure to check back. Tomorrow is going to be an exciting day for me. I'm doing a photo shoot with Jeff Zoet, which should be pretty great. 
See you guys in the morning!
Melissa
Beginner: 10 reps, timed 30 seconds
Intermediate: 15 reps, timed 45 seconds
Advanced: 20 reps, timed 60 seconds

1. High Knees (timed)
2. V-Up
3. Mountain Climber (timed)
4. Oblique Hip Drop Twist (right)
5. Oblique Hip Drop Twist (left)
6. Superman
7. Weighted Oblique Drop (right)
8. Weighted Oblique Drop (left)
9. Frogger
10. Heel Tap Abs
11. Dive Bomber
12. Cheek to Cheek Plank