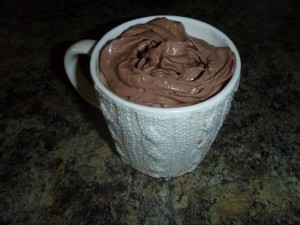 Hi Everyone,
Today I made a delicious low-cal version of an iced pumpkin latte. It's easy, delicious, and only has 51 calories. Yes, that does include the chocolate whipped cream I topped it off with. Of course, you can take off the whipped cream and it will still be delicious, but I was feeling indulgent today.
This drink passed the taste test of Jesse and his brother, Josh. I loved it!
Let me know what you think!
Melissa
Ingredients: (this made 3 large cups)
-2 Cups Strongly Brewed Coffee (I refrigerated it before I used it)
-1-1 1/2 cups Unsweetened Almond Milk Coconut Milk Blend
(I used Blue Diamond Brand, I am sure it would be delicious with either Almond or Coconut Milk if you don't have the blend). You can vary the amount of milk based on how creamy you like your coffee. I used 1 1/2 cups.
-1 teaspoon Vanilla Extract
-Dash of Pumpkin Spice
-2 heaping Tablespoons canned pumpkin (not pumpkin pie mix)
-Two Packets Stevia in the Raw
-Ice (I used about 8-9 cubes, use more, or pre-freeze coffee if you prefer an icy texture)
-Whipped Cream (Optional-Jesse chose the chocolate redi whip, and it was delicious)
Directions:
Put all of the ingredients, except the whipped cream in a blender. Blend on high until thoroughly mixed. Pour into a coffee cup, top with whipped cream. If you use regular whipped cream you can top it with a sprinkle of cinnamon.
Note: I put the ice in the blender, if you prefer you can put ice in each cup and pour the mixture over the ice.
This was a nice treat, without having a ridiculous number of calories.
Enjoy!
Melissa