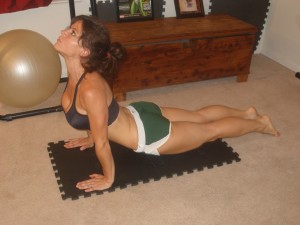 Hi Everyone,
This workout video is actually from last night. Yesterday morning I did a treadmill workout. I did a treadmill 5K in 23 minutes and 29 seconds, and then alternated walking and running as a cool down for 11 1/2 minutes. My total distance was 4.81 miles, and I kept moving for 45 minutes.
In the evening I decided to do an exercise challenge. I like exercise challenges because they give you an idea of your fitness level, and you can re-do them later to see how much you're improved.
This challenge is only 5 minutes long, but you want to do the maximum number of reps in each 5 minute time period. In a couple of weeks, or a month, it's a good idea to complete this challenge again and compare your results. So be sure to write down the number of reps you did!
See you all later,
Melissa
1. Chair Squat Leg Swing
2. Plank Pose
3. Leg Lift/Hip Lift
4. Dive Bomber
5. Lunge Jump