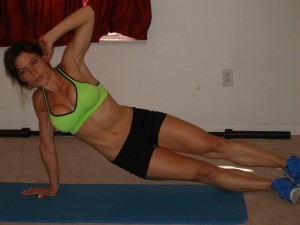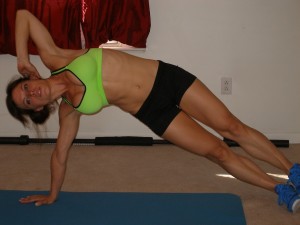 Hi Everyone,
This was my workout tonight. I also did a 3 mile run earlier this morning with Jesse. I did this workout interval style the first time through, and repetitions the second time.
I also created a post about what I eat/my typical diet: My Diet so check that out if you're interested.
There will be a new workout tomorrow. I am off to sit outside by the fire pit, and spend some time with friends. Have a great evening!
Melissa
Beginner: 10 reps
Intermediate: 15 reps
Advanced: 20 reps


Repeat 2-3X


or you can do the workout interval style: Max reps during each 50 second interval, with 10 seconds of rest in between.


1. Single Leg Lunge Jump (right)
2. Single Leg Lunge Jump (left)
3. Mountain Climber Pushups
4. 3 Way Lunge (right)
5. 3 Way Lunge (left)
6. Oblique Drop Side Plank (right)
7. Oblique Drop Side Plank (left)
8. V-Up
9. Heel Press (right)
10. Heel Press (left)
11. Chair Pulse
12. Bicycle
13. Hip Lift
14. Weighted Oblique Drop (right)
15. Weighted Oblique Drop (left)
16. Burpees