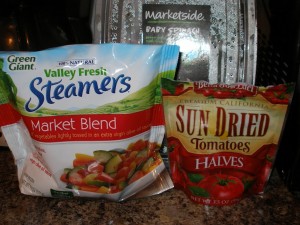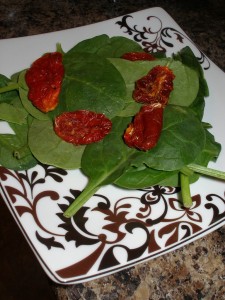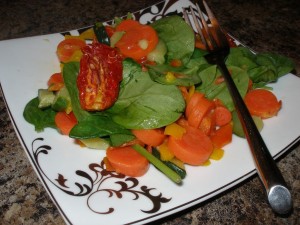 Hi Everyone,
I wanted to take a minute to share my lunch with you. Last night I had this as an after dinner snack because I was still hungry. This is a super healthy, quick option. When I bring it to work with me for lunch I usually toss it with some whole wheat pasta, or add some grilled chicken strips or salmon. I am home today so I can eat smaller meals throughout the day. This only has 140 calories. It's delicious, and it keeps me full. 
Plus, look at all those delicious and healthy colors on that plate! 
Enjoy!
Melissa
Ingredients: 
1 Bag Valley Fresh Stemers Market Blend
1-2 cups fresh spinach
5 sun dried tomato halves (I used Bella St Luci)
Stick the steamer bag in the microwave for about 6 minutes. 
While that is heating up put your spinach and sun dried tomatoes on a plate. 
I always drain the excess olive oil out of the veggies before emptying the bag over the spinach. You can heat the plate in the microwave for an extra 20-30 seconds if you want your spinach and sun dried tomatoes warm. If you are using chicken, fish or pasta mix it all together and heat it up. 
It's delicious, fast and easy!