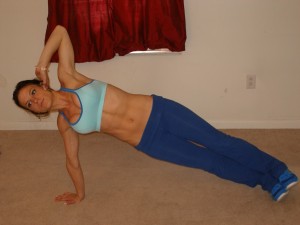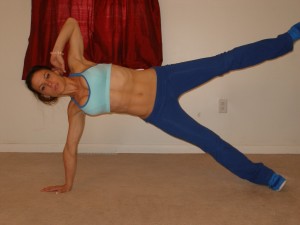 Hi Everyone,
Today's workout is finally uploaded! Be sure to warm up before this one (jump roping or sun salutations are both great warm-ups). I didn't warm up, and I was regretting it when I started out with those burpees! 
It took me 27 minutes to get through this workout. I was dripping sweat everywhere, but I felt like I got a tough and complete full body workout. It was a great challenge. You can watch me struggle through it, because this is a full length workout video. 
Gambit is usually the one who wants to make an appearance in my videos, but as you can see from the picture below Buffy decided she wanted some camera time. 🙂
Have a good night, and feel free to comment and let me know how you did!
Melissa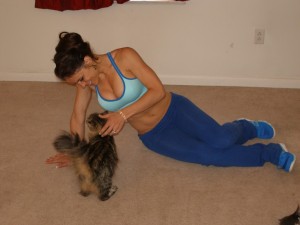 Beginner: 10 reps (30 seconds)
Intermediate: 15 reps (45 seconds)
Advanced: 20 reps (60 seconds)

1. Burpee
2. Side Plank Drop with Leg Lift (right)
3. Side Plank Drop with Leg Lift (left)
4. Bicycle (timed)
5. Walking Pushups
6. Table Kick (right)
7. Table Kick (left)
8. Jump Squat
9. Down Dog Step (right)
10. Down Dog Step (left)
11. High Knees (timed)
12. Lunge Kick (right)
13. Lunge Kick (left)
14. 3 Part Abs
15. Knee Plank