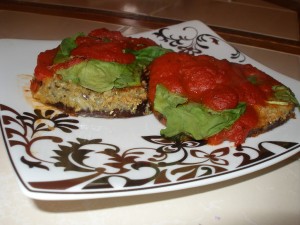 Hi Everyone,
Tomorrow I am planning on sharing a video/pictures following all of my meals for the day. In the mean time, here is a recipe that I love. Baked Eggplant. Yummmm! Eggplant is one of my favorite vegetables. Before I started graduate school I had a vegetable garden, so I had fresh a delicious eggplant as often as I wanted it. I miss those days! Now I have to buy it at the local farmers market, or the grocery store.
If you haven't tried eggplant you are missing out. Eggplant helps promote weight loss, helps prevent cancer, and is loaded with antioxidants that keep your brain, heart, and skin healthy. It's very high in fiber and only has 35 calories for one cup. Don't forget, if you fry it, and cover it in cheese you are losing a lot of the health benefits. This baked eggplant recipe is a healthier version of eggplant parmigiana.
I hope you enjoy this dish as much as Jesse and I did!
Melissa
Ingredients:
1 Eggplant
1 Egg (slightly beaten)
1 tablespoon water
1/4 cup whole wheat flour
1 cup tomato sauce (I used tomato basil sauce)
1-2 cups fresh baby spinach
Pre-heat over to 400 degrees F.
1. Wash your eggplant.
2. Slice eggplant cross wise (aprox 1/2 inch slices). You can peel the eggplant if you desire.
3. Combine egg and water.
4. Dip eggplant slices into the egg mixture, the lightly coat both sides with flour.
5. Place eggplant slices in a layer in a baking dish.
6. Lightly cover with sauce.
7. Place a layer of spinach over the sauce.
8. Lightly cover spinach with more sauce.
9. Bake, uncovered for 10-12 minutes, or until heated through.
Baking time is based on having one layer of eggplant in the bottom of your dish. If you decide to stack layers increase baking time as needed, and layer slices of eggplant on top of each other.
Enjoy!
This entire recipe only has 464 calories. It makes 4 servings, at 116 calories per serving. Each serving has 20 g carbs, 3 g fat, 6 g protein, 7 g fiber.