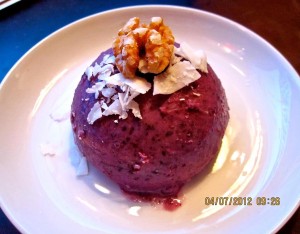 Hi Everyone,

This delicious recipe come from Carla. She has been on a serious Bender, and I mean that in the best way possible. 🙂 She has been taking over her life, making healthy choices, and kicking butt with my workouts! She was nice enough to share this recipe, and I am sharing it with you guys! This is her note below. Doesn't the picture just make your mouth water? Guess what I am making tonight?

Also, tonight's workout is uploading now. It hit every area of my core, and had plenty of fat burning. Be sure to check back for that! Also, please vote for my blog in Fitness Magazine's best blog contest. You have to register on the site, but it's totally free. I got entered late so I am way behind in the voting! Vote for my Blog! Click Here!

Note From Carla:

JUST THOUGHT OF SHARING MY ORGANIC HEALTHY TREAT INVENTION !!!!!!
I made this with 0% fat, 0% sugar yogurt, organic blueberries, chocolate protein powder and 3 walnuts. Put it all in your magic bullet until it gets mixed and creamy. Then pour the mix in a little bowl and put in the freezer. Once it's frozen, scoop it out of the bowl and serve with organic coconut shavings and a walnut on top !!! WAH LAH !! … LOOK !! … it tastes so good and it's a tiny portion! but so full of FLAVONOIDS ! … your teeth will turn purple from all the flavonoids so rinse after !!


Carla used slightly more than half a cup of organic, plain 0% fat/sugar free yogurt. She ground 3 walnuts into little chunks, and added half a scoop of chocolate protein powder (she used Promasil, but you can use your favorite brand!) She added a full cup of organic blueberries, but noted that any type of berries can be used. Add a tablespoon of plain almond milk. Blend, pour it into a bowl and freeze. Top with coconut shavings! You can change quantities for the texture that you want as long as the end result is a nice slightly thick texture.