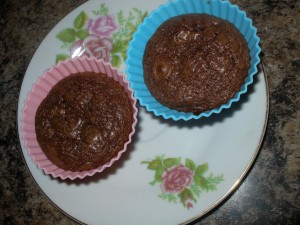 I had a sweet tooth tonight, and I got the idea for these brownie bites from a post I saw on pinterest. The original recipe came from Laura's Sweet Spot. Of course I changed it up to make it a little bit healthier. I substituted whole wheat flour for white flour, and was beyond thrilled with the results! Also, for half of them I crushed up dark chocolate M&M's and sprinkled them on the top. I am sending those to work with Jesse tomorrow. I thought they were sweet enough without the extra chocolate.
The recipe is super easy, and took only 15-17 minutes from start to finish. It makes 12 brownie bites.
Ingredients:
1 Cup Nutella
2 Eggs
1/2 cup and 2 Tablespoons of whole wheat flour
Pre-heat Oven to 350 degrees. Put cupcake liners in a muffin pan. I used re-usable cupcake liners.
Step 1:
Mix the eggs and nutella. (I measured out the nutella and then microwaved it for about 15-20 seconds before mixing to make it easier).
Step 2:
Mix the flour until it is just mixed in, and spread throughout the nutella/egg mixture.
Step 3:
Scoop the mixture evenly into the liners. They were slightly more than half way full.
Step 4:
Bake for 12-15 minutes. If you want a gooey center bake for 12 minutes, if you want them more cooked throughout go for 15 minutes.
The results are delicious, and healthier than a traditional brownie. They are also an appropriate size for an indulgent treat. Remember, being healthy is not about deprivation. It's about learning how to find a balance. You should still be able to enjoy food, but it shouldn't leave you feeling sick or guilty.