Hi Everyone!
Holiday entertaining, and spending time with family and friends is amazing! If you try to stick to healthy dietary choices, it can also be challenging. I always try to offer my guests a selection that includes healthy choices. Here are a few of my go to holiday appetizers/party food choices. I'm always interesting in learning more, so if you have suggestions be sure to post them in a comment!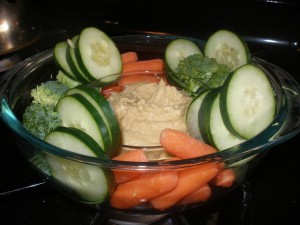 This veggie/hummus platter is super easy to move, but allows your guests (and you!) to have a healthy guilt-free option. I also set out some reduced fat wheat thins as an alternate option to go with the hummus.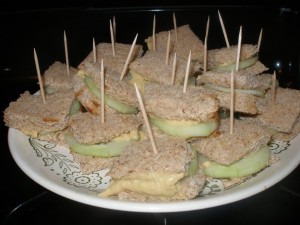 This snack was surprisingly popular! Cucumber sandwiches on whole wheat bread with a bit of hummus on either side of the bread. Just cut off the crust, cut the bread into squares, and you are ready to go. Obviously I am a big fan of hummus. If that's not your thing veggie slices (they are like cheese, but made out of vegetables) or some lowfat cheese and mustard can be great alternatives.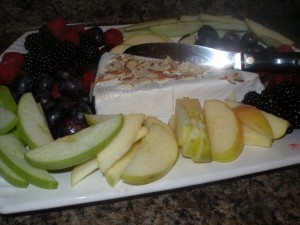 Brie cheese and fruit platter. Baked brie, with some sliced almonds, granny smith apples, golden delicious apples, red and black grapes, raspberries and blackberries were a delicious and popular snack. This is also good with a few reduced fat wheat thins.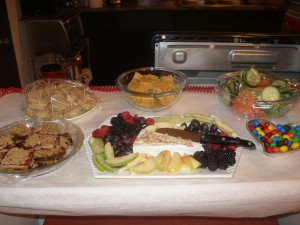 Some of our healthy options laid out for people to enjoy. We also had a little dish of peanut M&M's. It's crazy how artificial they look when you see them next to some whole food options.
Be sure to enjoy your holidays! If you don't think the party you are going to will have anything healthy you can offer to bring something for everyone to enjoy!