Hi Everyone!
Welcome to today's workout. I have three short workout videos for you today. Each video is between 5-10 minutes long. Quick workouts can be easier to customize and fit in throughout the day.
You can choose to go through each workout once, or repeat any of the workouts to make it a longer, more intense routine.
The struggle is real: Lately, I have really been struggling to get in my workouts. Last week I wasn't able to film any new workouts because we couldn't find a baby sitter due to the holidays. It feels like every time I get my workouts and consistency on track something happens to throw me off track again. It's like the old Paula Abdul song: "I take two steps forward, I take two steps back."
To add to the issue I was having back pain and a muscle spasm in my low back. I couldn't get rid of it, until I finally started my split stretching routine. I can still feel some tightness there, but I will continue to do my stretches.
New Workout Challenge: I am planning a new workout challenge. It helps me to stay on track, and it will be a great way to jump start our fitness goals together through the new year. I will be posting more about the challenge as I cement the details.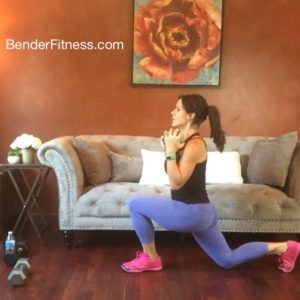 What are your holiday goals? Let me know in the comments below. I have so many fitness related goals that it feels a little overwhelming, but I am going to put together a list and share it with you. We can achieve our goals together. We need to remember to treat ourselves with kindness on this journey.
I will be seeing you soon with new workouts.
Melissa
PS You can find me on Social Media: @BenderFitness and on Facebook: @MelissaBenderFitness and Jesse is on Instagram: @BenderCrosby1 
For my non-fitness related posts I am on instagram as @Melissa_Bender_Life
PPS If you want to help support BenderFitness so we can get a new camera & new equipment & make our site more sustainable your donation is greatly appreciated: https://www.patreon.com/BenderFitness
Squat
Lunge (Alternating)
Forward Leg Pulse (right)
Forward Leg Pulse (Left)
Side Lunge (Alternating)
Repeat 1-3X
Hip Lift
Bicycle
Rock the Boat
Cheek to Cheek
Superman
Repeat Cardio Interval
Repeat Full Workout 1-3X
Set Your Interval Timer: 10 Rounds of 15/50.
1. Goblet Squat
2. Warrior Deadlift-Right
3. Warrior Deadlift-Left
4. Bent Over Row
5. Curtsy Lunge-Right
6. Curtsy Lunge-Left
7. Dumbbell Swings
8. Lawn Mower Row-Right
9. Lawn Mower Rose-Left
10. Lunge to Press
Repeat 1-3X