Hi Everyone!
I have a fantastic 40-Minute Total Body Workout for you today. This No Equipment Exercise Routine will work and strengthen your entire body.
I included a lot of fun and unique exercises in this workout that I think you are going to enjoy. You can find the full length workout video and photo tutorial for each exercise below.
Before each exercise we are doing a Cardio Burst. I chose marching in place and high knees. You can select any form of cardio you want: Jumping Rope, Burpees, Jump Squats, Mountain Climbers. You have options. Remember to push yourself during the workout. Your intensity level matters. It should be challenging for you.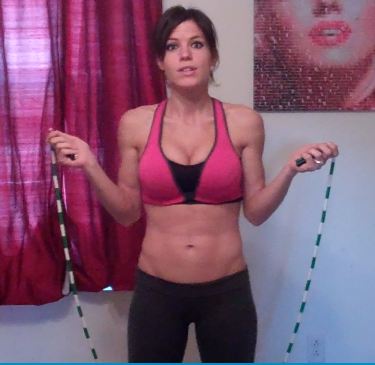 Nutrition:
A great fitness routine is best supported with a nutrient rich diet. We all know that eating healthy is important. I am personally finding this aspect of a healthy lifestyle very challenging right now.
Our state is under stay at home orders due to Coronavirus (as are most states and many other countries). Since I have a newborn, I haven't been out of the house in almost two months. I haven't seen the grocery stores first hand, but I do know Jesse hasn't been able to find all of our normal foods and the grocery delivery services have long wait times (sometimes a week or more to get a delivery).
My point in sharing this is to remind you that this is a unique time in life and history. Things are crazy. If your nutrition is off it's normal routine or a struggle right now, you're not the only one. Do what you can, keep your body moving, and try not to stress more than you have too.
We normally eat tons of fresh produce, but frozen fruits and vegetables are a great and nutritious option. Our freezer isn't very big, so we are doing our best with the space we have.
Mental Health
Right now, with all the additional stresses in the world, it's very important to focus on your mental health. Check in with yourself, check in with your friends. Being isolated can be very difficult. Having sick friends and family is even harder.
I find that exercise and meditation are two techniques that have a huge impact on my mental and emotional health. Pay attention to what works for you. We are all in this together.
Have fun with today's workout, and let me know what you think of the new routine!
Melissa
PS You can find me on Social Media: @BenderFitness and on Facebook: @MelissaBenderFitness and Jesse is on Instagram: @BenderCrosby1
PPS If you want to help support BenderFitness so we can keep bringing you new workouts, your donation is greatly appreciated: https://www.patreon.com/BenderFitness.
28 Rounds of 30/50
In/Out Squats
Curtsy Lunge Kick-Right
Curtsy Lunge Kick-Left
Kneeling Double Kickback-Right
Kneeling Double Kickback-Left
Leg/Hip Lift (Heel Slide Modification)
Side V-Up-Right
Side V-Up-Left
Reverse Plank Butt Tap
Rock the Boat
Table Top Tricep Dip
Locust Arm Series
Down Dog Pushups
Crescent Lunge Arm Series-Right
Crescent Lunge Arm Series-Left
Crab Toe Touch (Alternating)
Side Lying Knee Tap to Back Leg Reach-Right
Side Lying Knee Tap to Back Leg Reach-Left
Side Lying Back Angled Leg Reach-Right
Side Lying Back Angled Leg Reach-Left
Side Plank Reach Through-Right
Side Plank Reach Through-Left
Hip Press with Knee Abduction
Alternating Hip Thrust
Plie
Lunge Lift Elbow Tap-Right
Lunge Lift Elbow Tap-Left
Goddess Reach