Hi Everyone!
Welcome to today's workout! Great job showing up, and making the choice to get your exercise in today.
Today's workout is a fantastic Total Body routine. This exercise program will help you build strength, while getting in a great cardiovascular/endurance building challenge.
Don't be afraid to work up a great sweat, and let yourself work hard and breath heavy. The intensity of this workout is part of what makes it so effective.
I incorporated a couple of new exercise moves, along with some standard favorites. Let me know what you think of the new moves. I especially enjoyed the Oblique Lower Leg Tap. If that move still feels crazy to you, you can build up to it by holding your Side Plank.
Dont' be afraid to modify exercises as you build strength. As long as it is challenging you, it's changing you to be stronger, fitter, and to have more endurance.
For anyone with weight loss goals this year, I am hosting another DietBet Challenge, starting Monday January 14th. The way it works, you place a bet that you can lose 4% of your total Bodyweight over the course of 4 weeks. Anyone who achieves that goal wins money for their success. It can be a great way to stay motivated. You can join here: www.DietBet.com/BenderFitness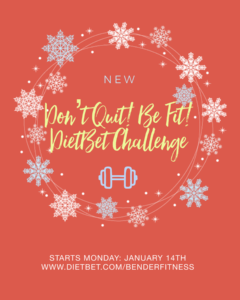 *Not everyone needs to lose weight. The DietBet is for those who have a goal to lose weight for their health. If you have struggled with eating disorders, or have found this type of challenge to trigger unhealthy habits, joining the DietBet won't be the best fit for you. Our goal at BenderFitness is always to promote a holistic and healthy life. That includes physical, mental and emotional health.
BenderFitness recieves compensation for hosting a DietBet. We use that money to help keep our website free and sustainable. We will never promote anything we don't believe in.
We hope you enjoy today's workout routine. It's a quick workout, but it's very effective. My thighs were exhausted at the end of this workout!
Have fun, and let me know what you thought of the workout! Feel free to tag me on Instagram with your workout check-ins! I love cheering you on, and seeing you workout with me.
Enjoy!
❤️ Melissa
PS You can find me on Social Media: @BenderFitness and on Facebook: @MelissaBenderFitness and Jesse is on Instagram: @BenderCrosby1
PPS If you want to help support BenderFitness so we can keep bringing you new workouts, your donation is greatly appreciated: https://www.patreon.com/BenderFitness. 
Toe Touch Pushups
Lunge Jump
Angel Abs
Surfer
Obilque Lower Leg Tap-Right
Oblique Lower Leg Tap-Left
Donkey Kick
Forward/Backward Lunge Hop-Right
Forward/Backward Lunge Hop-Left
Leg/Hip Lift
Low Jack
Leg Circles-Right
Leg Circles-Left
Squat Jump
Seated Rotation
Complete 1-3 Rounds.