Hi Everyone!
Welcome to the workout of the day! Today's routine is a Low Impact, but very effective, Total Body Workout. You don't need any equipment, and one round of this workout will take 20-Minutes. You can always repeat the workout to make it more intense, or add a weighted vest or weights for resistance.
As always, the workout, photo tutorial and video breakdown are below.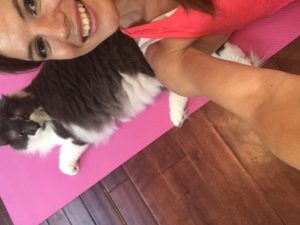 During this workout, try to get in max reps, without sacrificing form. It's better to get in less reps with great form, than more with poor form. Of course, if you aren't quite ready for a specific exercise, you can modify the movement.
Gambit has been very happy that we are filming new BenderFitness workouts again. As you can see, he loves to take hog the mat during my workouts. If I don't have a toddler climbing on me, Gambit is happy to take over. 😂
This Week, focus on staying well hydrated throughout the day. Your entire body functions better when you are hydrated.
Not Fitness Realted: I got my first Stitchfix box in a long time. It had some fun new outfits and an accessory. If you want to try it out, and get $25 off of your first box check out this link (I also get $25 off for referrals. I'm not being paid to do this, the referral program is open for all users!) Here is the link: https://www.stitchfix.com/referral/melissabender2?sod=w&som=c.
Do you like seeing Beauty, Fashion or Health tips, or do you prefer pure fitness and workouts? I enjoy trying out new products and styles, and I would be happy to share more about the things I check out.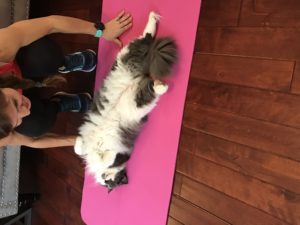 I hope you have fun with today's workout! Let me know in the comments below, or by checking in on Facebook or Instagram.
❤️ Melissa
PS You can find me on Social Media: @BenderFitness and on Facebook: @MelissaBenderFitness and Jesse is on Instagram: @BenderCrosby1
PPS If you want to help support BenderFitness so we can keep bringing you new workouts, your donation is greatly appreciated: https://www.patreon.com/BenderFitness. 
Side to Side Squat
Lunge & Lift – R
Lunge & Lift – L
Figure 4 Extension – R
Figure 4 Extension – L
Leg Lift to Warrior III- R
Leg Lift to Warrior III – L
Chair Squat Step (Alt.)
Curtsy Lunge Kick – Right
Curtsy Lunge Kick – Left
Side Plank Leg Lift – Right
Side Plank Leg Lift- Left
Twisting Single Leg Lift – Right

 

Twisting Single Leg Lift- Left

 

Knee Drop Plank
Hip Tap Plank
Down Dog Toe Touch – Alt.
Supergirl

 

Down Dog Heel Lift – Right
Down Dog Heel Lift – Left
Repeat Workout up to 3X.