Hi Everyone!
I just made a batch of these delicious Chocolate Bites. They are a healthy alternative dessert that I don't feel bad giving to my toddler.
The combination of Dates and Nuts means this recipe is great for digestion, has plenty of Fiber, Vitamins and Minerals. It's easy, requires no cooking, and is quick to make. These days I always seem to be in a hurry, so speed and ease are important.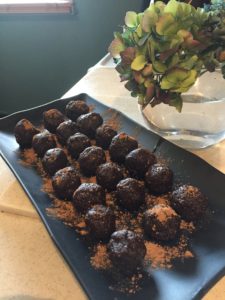 I have tried this recipe with Pecans, Almonds, Walnuts and a mixture of all three. The pecan version is my favorite, but you can substitute a different type of nut if you prefer. Let me know if you try it, and how you like it! I like tweaking recipes, until I get them just right. I was thinking of attempting a Mint Chocolate version of these. If that's a recipe you'd like to see let me know in the comments.
I hope you enjoy this treat as much as we did.
Melissa
PS You can find me on Social Media: @BenderFitness and on Facebook: @MelissaBenderFitness and Jesse is on Instagram: @BenderCrosby1 
For my none fitness related posts I am on instagram as @Melissa_Bender_Life
PPS If you want to help support BenderFitness so we can get a new camera & new equipment & make our site more sustainable your donation is greatly appreciated: https://www.patreon.com/BenderFitness
Ingredients:
1.5 cups Pecans
1/4 cup natural cocoa powder
1 teaspoon vanilla extract
12-14 Medjool Dates (about 1 cup)- pits removed
1 tablespoon water
Directions:
Put nuts in food processor until finely ground.
2. Add all other ingredients and process until it forms a sticky dough like texture.
3. Roll into balls.
4. Optional: sprinkle or roll in cocoa powder.
5. Chill in refrigerator or freezer and serve.
#benderfitness #yum #chocolate #healthydessert #delicious #dates #pecans #veganfriendly
SaveSave
SaveSave