Hi Everyone!
I hope you are ready for a great week of workouts! Below I have posted 5 workout videos, plus a post workout stretch, and a 10-minute Bonus Cardio workout.
Make this schedule your own. The focus this week is on full body exercises programs. We are utilizing lots of compound movements to maximize the fat burn, and incorporate strengthening throughout the program.
Don't be afraid to modify. You can make any plyometric move lower impact by modifying the exercise to exclude the jump. For example, jump squats, can be a jump and squeeze. You can add a weighted vest or grab some dumbbells if you want to increase the intensity. One of my favorite ways to modify a workout is to do one round HIIT, and a second round for Reps (normally I do 20-reps). I want you to start listening to your body, recognizing when you need rest, and when you can push a little bit harder. You make gains during rest, so don't skimp on resting.
The Bonus Cardio Workout can be added to any of the other exercises if you are ready to increase the intensity. Listen to your body. You will know if you are ready for it. You can also increase the intensity by repeating the workouts. Each workout can be repeated up to 3X, and paired with cardio of choice. I typically aim to keep my workouts 60-minutes or less total (including the workout routine and any extra cardio). There are also plenty of days when I "only" do one round of the workout. You can also choose any alternate cardio (walking, running, cycling, swimming, jump rope, etc).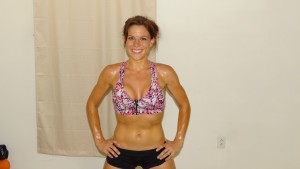 My Goal: My current goal is to become more consistent with my workouts. My son turned one in July, and over the course of the past year I have found it very difficult to consistently stick to a workout schedule. I have to admit, I thought it would be easier. I am having trouble prioritizing my own needs. There is always something else that needs to be done. That said, I need to get on track for myself, for all of you, and for BenderFitness to continue successfully into the future.
This is something I know about myself: When I get off track with my workout schedule I have less energy. I am tired, and although I mentally want to workout, it feels impossible. When I decide to do it anyway my energy gets better, and so does my motivation. The more consistent I am, the better I am able to make exercise and health a priority. I also make healthier food choices when I am working out. Exercise helps regulate the way your body processes sugars, and can decrease cravings, and that is certainly true for me.
New Workouts: We have more workouts headed your way! I am working on a new challenge for the month of October.
Have fun with today's workout! I love seeing your check-in posts and comments! Let me know how you feel and what you thought of the workouts.
Melissa
PS You can find me on Social Media: @BenderFitness and on Facebook: @MelissaBenderFitness and Jesse is on Instagram: @BenderCrosby1 
PPS If you want to help support BenderFitness so we can get a new camera & new equipment & make our site more sustainable your donation is greatly appreciated: https://www.patreon.com/BenderFitness
Don't forget to include a Warm-Up and Cool Down.
Workout #1: Tight Body Fat Burning Workout:
Workout 1: Metabolism Wake-Up Call: No Equipment Home Workout
Workout 2: Full Body Sculpt & Sweat: 15 Minute HIIT
Workout 3: 20-Minute Full Body Fat Burning Workout: HIIT
Workout 4: 15-Minute Legs and Core: Home Workout Exercises
Workout 5: Ten Sun Salutations
Quick Post Workout Stretch:
Cardio Bonus: This can be added to any workout: 
SaveSave
SaveSave