Hi Everyone!
Are you ready to make some healthy choices this week? I hope you said yes, because I am ready to make some positive decisions right along side you. So let's start with a plan.
The Workout Plan: This week I selected 6 workouts, plus a ten minute bonus cardio workout. All of the workouts can be done with no equipment, however, a few of them do use dumbbells and/or a jump rope. If you don't have equipment don't fret. Here at BenderFitness we aim to focus on all workouts that you can do from anywhere without spending a ton of money on equipment.
Jump Rope segments can always be done without a rope. The dumbbell exercises can be completed with body weight, or with something from around the house to add some resistance: water bottles or weighted bags can be used. If you have another idea post it in the comments below!
You can choose to add the cardio bonus to any workout. You should also customize the workouts based on your own goals and current fitness level. How can you do this? I'm so glad you asked! 'You can modify by varying how many times you go through each workout. For example, you can go through workout #1 once, or you can repeat it up to 3X. You can do that workout in conjunction with the bonus cardio workout, or on it's own. Not up to the cardio bonus, but want an extra burn? Go for a run, power walk, or hop on a bicycle. This is your health and your body. A huge part of a successful fitness journey is customizing it to your needs.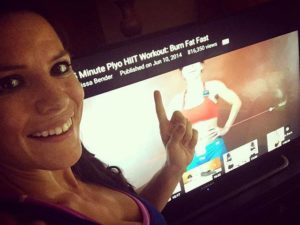 Hold Yourself Accountable: Any good plan benefits from accountability. Have you ever found that giving yourself a deadline gets you moving? Decide now how many workouts you are going to get in this week and pick a tracking method. I like writing my workouts down on my calendar, as well as doing photo check-ins after my workout.
The calendar gives me a quick visual. If I see a few days in a row without a workout written down I know it's time to get myself moving again. The photo check-ins remind me that I am a part of the BenderFitness Team. Your check in posts motivate me to keep doing what I'm doing, and hopefully mine motivate you in return.
During the last week I focused on getting myself back on track and into the groove. Let's commit to sticking to healthy choices together.
My Workouts this Week: As you guys know, I have a busy toddler so although I plan to repeat workouts I am often only able to get in one round. I will be posting my personal check-ins for the workouts on Instagram and Facebook. I will let you know how many rounds I get in. I will also be teaching yoga on Monday and Friday this week (if you want to sub a yoga workout for one of the workouts below you can pick one HERE). A friend is coming over to watch my son this week so I can film new workouts for a new workout challenge I have starting next month. That means I will likely modify my workout schedule a bit this week, but my goal is to follow the schedule below right along with you guys.
New Workouts: At the risk of repeating myself: We have more workouts headed your way! I am working on a new challenge for the month of October.
Have fun with this week's workout schedule! I love seeing your check-in posts and comments! Let me know how you feel and what you thought of the workouts.
Melissa
PS You can find me on Social Media: @BenderFitness and on Facebook: @MelissaBenderFitness and Jesse is on Instagram: @BenderCrosby1 
PPS If you want to help support BenderFitness so we can get a new camera & new equipment & make our site more sustainable your donation is greatly appreciated: https://www.patreon.com/BenderFitness
Don't forget to include a Warm-Up and Cool Down.
Cardio Bonus: 10-Minute Cardio Fat Burner: Bonus Cardio Workout
High Knees
Mountain Climbers
Burpees
High Knees Lateral Jump
Frog Hopper
Plie Jump
Tuck Jump Burpee
Russian Kicks
Heel Tap Squat Jump
Donkey Kick
Repeat 1-3X
Workout 1: 30-Minute Full Body Workout
Interval Timer: 20 Rounds of 40/50
Reps: Beginner: 10 Reps, Intermediate: 15 Reps, Advanced: 20 Reps with 40-60 seconds of cardio between each exercise.
*Perform Cardio Burst of Choice between each exercise: High Knees, Jump Rope, or Burpees*
Curtsy Lunge & Curl-Right
Curtsy Lunge & Curl-Left
Down Dog/Dolphin Press
Sit to Stand Thigh Sculpt-Right
Sit to Stand Thigh Sculpt-Left
Side Plank Leg Lift-Right
Side Plank Leg Lift-Left
Windshield Wiper Dips
Lunge Jump Squats
Down Dog Toe Touch Stretch-Right
Down Dog Toe Touch Stretch-Left
Pretzel Lift-Right
Pretzel Lift-Left
Squat to Curtsy Lunge Kick-Alternating
Warrior Deadlift to Row-Right
Warrior Deadlift to Row-Left
Side Plank Hold-Right
Side Plank Hold-Left
Single Leg Frogger Pushup
Wood Chopper-Alternating
Repeat 1-2X
Workout 2: 20-Minute HIIT Core & Legs:
Set your timer for 15 rounds of 30/50. 
30 Seconds Core. 50 Seconds Max Reps. 
-Core Series
1. High Knees
-Core Series
2. Burpees
-Core Series
3. Squat Kick (right)
-Core Series
4. Squat Kick (left)
-Core Series
5. Side Lunge Kick (right)
-Core Series
6. Side Lunge Kick (left)
-Core Series
7. Superman Squat Jump
-Core Series
8. Round Kick Double Jab (right)
-Core Series
9. Round Kick Double Jab (left)
-Core Series
10. Tripod Jump (right)
-Core Series
11. Tripod Jump (left)
-Core Series
12. Side Plank Knee/Lift (right)
-Core Series
13. Side Plank Knee/Lift (left)
-Core Series
14. Frogger
-Core Series
15. X-Jumps
Repeat 1-3X
Workout 3: Tight Body Fat Burner Workout:
Intervals: 15 Rounds of 10/50.
Reps:
Beginner: 10 Reps, 30 Second High Knees
Intermediate: 15 Reps, 40 Second High Knees
Advanced: 20 Reps, 50 Second High Knees
1. High Knees
2. Mountain Climber Pushup
3. Wood Chopper (right)
4. Wood Chopper (left)
5. Prone Elbow Twist
6. Walk the Plank Step Outs
7. Ball Pull or Frogger
8. High Knees
9. 3-Part Abs
10. Hip Drop Side Plank (right)
11. Hip Drop Side Plank (left)
12. Speed Skater (Side Lunge Reach)
13. Burpee
14. Dive Bomber/Up-Down Dog
15. High Knees
Repeat 1-4X
Optional: 30 Minutes of Cardio
Workout 4: Core & Arms Workout: 10-Minutes
1. Burpee
2. Twisting V-Up
3. Walk the Plank
4. Russian Twist
5. Superman Push-up
6. Oblique Drops (right)
7. Oblique Drops (left)
8. Frogger Push-up
9. Side Plank Hip Drop with Leg Lift (right)
10. Side Plank Hip Drop with Leg Lift (left)
Repeat 1-3X
Workout 5: Jump Rope & Butt Sculpt
Set your Interval Timer for 15 rounds of 10/50.  
1. Jump Rope
2. Burpee
3. Jump Rope
4. Warrior Deadlift (right)
5. Jump Rope
6. Warrior Deadlift (left)
7. Jump Rope
8. Bulgarian Split Squat (right)
9. Jump Rope
10. Bulgarian Split Squat (left)
11. Jump Rope
12. Single Leg Sit to Stand (right)
13. Jump Rope
14. Single Leg Sit to Stand (left)
15. Jump Rope
Repeat 1-4X
Workout 6: 15-Minute Dumbbell Sculpt
Max reps 10/50 (15 rounds)
or
Beginner: 10 reps
Intermediate: 15 reps
Advanced: 20 reps
1. Plank Row
2. Squat and Press
3. Tricep Extension
4. Lunge Row (right)
5. Lunge Row (left)
6. Dumbbell Swing (right)
7. Dumbbell Swing (left)
8. Split Squat (right)
9. Split Squat (left)
10. Romanian Deadlift
11. Dumbbell Heel Press & Curl
12. Wood Chopper (right)
13. Wood Chopper (left)
14. Warrior III Curl (right)
15. Warrior III Curl (left)
Repeat1-3X