Hi Everyone!
Welcome to today's workout! On the agenda for today is a Quick Total Body Workout, with the option of a bonus 10-minute cardio fat blasting workout. I filmed this workout in November when my son was only 4-months old. He turned 1 yesterday, so it is amazing to look back and see how little he was!
Maverick has basically stopped crawling, and walks everywhere now. Before you know it he will be joining me for Burpees. Right now he think's it's hilarious to do Down Dog pose with me. I'm not quite sure how time is going so quickly, but it is flying by.
The Workout: This is a total body workout, and utilizes dumbbells. No Dumbbells? Get creative! Grab some water bottles, or something around the house that you can use for some resistance. During today's workout focus on form. Form is always important, but I really want you to emphasize it when you use weights. Use a weight that challenges you, but that you can maintain your form with for each exercise. I used two 12-lb dumbbells during this workout.
Up Coming Workouts: I hope you enjoy today's workout! I have new workouts to film, and we are working on making it happen.
Thanks for working out with me! Let me know how it goes and how you feel!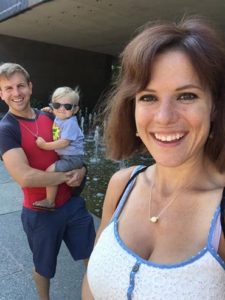 Much Love,
The Benders: Melissa, Jesse & Maverick
PS You can find me on Social Media: @BenderFitness and on Facebook: @MelissaBenderFitness and Jesse is on Instagram: @BenderCrosby1 Maverick on Instagram: MaverickBender
PPS If you want to help support BenderFitness so we can get a new camera & new equipment & make our site more sustainable your donation is greatly appreciated: https://www.patreon.com/BenderFitness. 
Equipment: Two Dumbbells + Interval Timer. –Buy a Gymboss now. Set Your Interval Timer for 12 Rounds of 10/50. 
Squat Press
Spiderman Plank
Runner's Lunge Pulse-Right
Runner's Lunge Pulse-Left
Bent Over Row to Fly
Table Leg Press-Right
Table Leg Press-Left
Rock the Boat V-Up
Elbow Tap Side Plank-Right
Elbow Tap Side Plank-Left
Down Dog Hop-Right
Down Dog Hop-Left
Repeat 1-3X
Equipment: –Buy a Gymboss now. Set Your Interval Timer for 10 Rounds of 10/50.
Help BenderFitness: https://www.patreon.com/BenderFitness
High Knees
Mountain Climbers
Burpees
High Knees Lateral Jump
Frog Hopper
Plie Jump
Tuck Jump Burpee
Russian Kicks
Heel Tap Squat Jump
Donkey Kick
Repeat 1-3X