Hi Everyone!
Are you ready for a quick workout? Today's workout is focused on the lower body. Grab some dumbbells today to add resistance to your workout. If you don't have dumbbells you can do the exercises with body weight, or grab something from around your house to add resistance.
This workout utilizes multiple exercises to shape and sculpt your lower body. Focus on form and using the full range of motion for each exercise. 
For this workout I went for Reps instead of time. You can choose to do this routine for time if you prefer, but it is good to mix up your workouts and challenge your body in a different way. Don't be afraid to go outside of your comfort zone.
I am still resting, stretching and foam rolling to make sure my IT Band is in tip top shape and I can return to working out. I did go for a 40-minute walk yesterday and had no pain. Foam rolling has also become less painful. When I first started foam rolling my left IT Band it felt like being punched in a bruise. Now it is relatively comfortable, so I think I have eased out the tightness. My Half Marathon is just three weeks away. I went from having a time goal, to just wanting to make it through the race injury free. I am giving it a full week off before I attempt to run, and I am going to start with light running on a flat surface. Maverick and I will be visiting the track on Monday.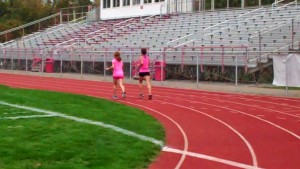 During my Half Marathon I am fundraising for Love146 to help prevent human trafficking of children. It's very important to me to be able to run this race, because it is such an important cause. If you are able to make a donation every dollar helps! You can do so here: Love 146 Fundraiser. Your donation helps rescue children from slavery, and provide services and support to the children who are rescued. Donations are tax deductible.
I am focusing on practicing what I preach: Exercise should be something good for you. When you are injured exercising before you are ready doesn't make you healthier or stronger, it can injure you further. It is better to wait, heal, and resume your exercise. I am not a fan of the waiting, but I know that in the long run my body will thank me for it.
I hope you enjoy today's workout! Let me know what you think!
Melissa
PS You can find me on Social Media: @BenderFitness and on Facebook: @MelissaBenderFitness and Jesse is on Instagram: @BenderCrosby1
PPS If you want to help support BenderFitness so we can get a new camera & new equipment & make our site more sustainable your donation is greatly appreciated: https://www.patreon.com/BenderFitness. 
Equipment: Dumbbells, Chair or Bench (something to step up onto).
Beginner: 10 reps
Intermediate: 15 reps
Advanced: 20 reps
1. Chair Squat
2. Hip Thrust (right)
3. Hip Thrust (left)
4. Dead-lift Row
5. Step Up with Kick Back (right)
6. Step Up with Kick Back (left)
7. Plie Squat
8. Warrior Dead-lift (right)
9. Warrior Dead-lift (left)
10. Leg Series (right)
11. Leg Series (left)
Repeat 1-3X