Hi Everyone!
Let's start the week off right! Today I have a great workout combination for you. We have a quick 5-Minute Arm & Back Workout (grab your dumbbells or something to add some resistance to your workout!) and a 10-Minute Stability Ball Workout.
If you don't have a stability ball you can still modify the workout. Grab a chair and some paper plates or dish rags (socks work on wood floors!) so you can slide your feet along the floor without a ball. I say this all the time: there is always a way to modify the workout to suit your needs.
Equipment can add an extra challenge to your workouts, but it isn't the only way to get in a great workout. You can get results with body weight and a little bit of space. If you get creative with the moves to make them work without equipment, please share below and let me know what you did. It can help other people get ideas!
Lately, I have been spending a lot of time thinking about exercise as it relates to health. The physical benefits are obvious, but health is so much more than the physical body. True health encompasses the body, mind, spirit, emotions, and finding a life balance with your wants and needs.
I often worry about the people out there who are suffering and exercising from a place of hate (hating the way you look, trying to change). Exercise can most certainly be physically transformative, but the goal is to improve your health. I want to help people learn to exercise from a place of health and love.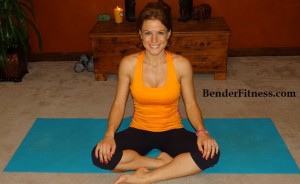 Don't get me wrong, it's okay to have physical goals, weight loss can often be a part of making healthy changes. There is nothing wrong with working for stronger, more defined arms (or legs, or abs). When you start exercising through pain or injury, you aren't doing anything for your health. If you are starving to hit a number on the scale, you aren't doing anything for your health. I think it's important to focus on exercise as a part of a healthy lifestyle. It isn't the only aspect of a healthy lifestyle.
Is there something you do to re-focus on health, while still working toward goals? Please share in the comments below.
Melissa
PS You can find me on Social Media: @BenderFitness and on Facebook: @MelissaBenderFitness and Jesse is on Instagram: @BenderCrosby1 Maverick on Instagram: MaverickBender
PPS If you want to help support BenderFitness so we can get a new camera & new equipment & make our site more sustainable your donation is greatly appreciated: https://www.patreon.com/BenderFitness. 
Buy a Gymboss now. Timer Set for 5 Rounds of 10/50.
Help BenderFitness Get a New Camera: https://www.patreon.com/BenderFitness
1. Alternating Lunge & Curl 0:46
2. Squat & Press 1:46
3. Pushup Row: Alternating 2:46
4. Runner's Lunge with Tricep Kickback: Right 3:46
5. Runner's Lunge with Tricep Kickback: Left 4:46
Repeat 1-3X
–Buy a Gymboss now. Interval Timer Set for 10 Rounds of 10/50
Help BenderFitness Get a New Camera: https://www.patreon.com/BenderFitness
1. Ball Pull
2. Hip Lift
3. Elbow Pull
4. Prone Butt Lift Press
5. Butt Pull
6. Ball Pass
7. Ball Twist
8. Tick Tock Abs
9. Situp Stretch
10. Butt Lift
Repeat 1-3X