Hi Everyone!
Today is a Cardio Workout Day. Today's workout is a plyometric interval workout that will get you sweating and get your heart rate up. When I filmed this workout I burned 179 Calories during the 15-Minute Workout. That averages to almost 12-calories per minute, which is higher than most people get during running!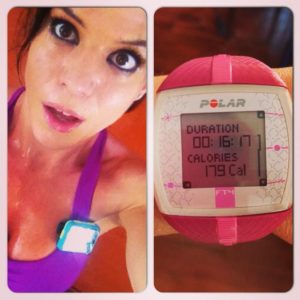 I wasn't able to film yesterday, Maverick was super awake and alert all day yesterday, and was taking multiple short naps again, but nothing long enough that I was able to film a workout. I did get out for a nice run with him in the running stroller. So I did 30-Minutes of Cardio (3 miles outside).
There are two video options below. The first is the Plyo HIIT Fat Burn Workout (15 minutes per round) and the second is my 10 Minute Cardio Fat Burn. You can also choose to go for a run. I like to focus on all around, functional fitness, so that means being physically ready for anything: good strength, endurance, and speed. So I like to incorporate workouts that utilize all of those areas.
Our workout schedule for this week:
Day 1: 15 Minute HIIT: Quick Full Body Workout

Day 2: 35 Minute Total Body Workout & Cardio HIIT Fat Burn 
Day 3: That's Today! Cardio. 
Day 4: Lower Body
Day 5: Core
I am planning on filming tomorrow's lower body workout today so wish me luck! Maverick is smiling and laughing at me right now, so hopefully he is that happy when it's time to film the workout! He is getting so big and strong! I can't believe how quickly he is growing. Luckily he has been very much enjoying running and walking outside with me. He gets to "talk" to me on the run, and I must look funny when I run up hills because he normally stares at me and laughs.
Have a great day & Enjoy today's workout!
Melissa
***Help BenderFitness Get a New Camera: https://www.patreon.com/BenderFitness.****
–Buy a Gymboss now.  set for 15 Rounds of 10/50.
1. Burpee
2. Mountain Climber
3. Jump Squat
4. Russian Kicks
5. Lunge Jump
6. Frogger
7. Surfer
8. Mountain Jumper 
9. Tuck Jump
10. Frog Hopper
11. Ninja Jump
12. Plank Jack
13. Speed Skater
14. Hip Lift Hook
15. Tuck Jump Burpee

Repeat 1-3X
Burpee
Burpee
Mountain Climber
Russian Kicks
Lunge Jump
Frogger
Surfer
Mountain Jumper
Tuck Jump
Frog Hopper 
Plank Jack
Speed Skater
Hip Lift Hook
*Each Section will take 5 minutes. You can pause the video and grab some water in between sections. *
Section 1: Jump Rope Cardio Burn
Jump Rope
High Kness Jump Rope
Jump Rope
High Knees Jump Rope
Jump Rope
Section 2: Cardio Fat Burn
High Knees
Burpees
High Knees
Burpees
High Knees
Repeat 1-3X