Hi Everyone!
First of all, if you are looking for today's workout you can find it here: Arms, Back & Cardio Workout. If you have already worked up an appetite, you are in for a treat with today's recipe! It's so delicious that I can't wait to make it again! My friend, Stephanie, shared this recipe with me, and gave me permission to share it here with all of you. She is one of the best cooks I know, so it's always a treat when she decides to share a recipe. Personally I love almost anything that has shrimp and/or lemon. This combination is scrumptious.
Spaghetti Squash is delicious, and full of nutrients, and fiber. It's a great alternative to use in dishes that normally use pasta. There are only 42 calories in a one cup cooked serving of spaghetti squash. In comparison, one cup of cooked spaghetti has around 200 calories. After baking the squash, the noodles separate into spaghetti like strands, when scraped from the rind with a fork.
Some of the health benefits: High in Fiber, Vitamins C & A, Pottasium, Calcium, beta-carotene, Folate, Omega 3 and Omega 6. Remember, the more colorful your diet is, the wider the range of nutrients you are consuming.
I didn't check my spaghetti squash at 45-minutes, so the noodles were a bit softer, but they were still delicious and had a nice texture. Longer cooking time will lead to softer noodles. My notes about changes I made to the recipe are included with the ingredients list below.
Do you have a favorite way to prepare spaghetti squash? Share it in the comments below! I am always looking for great alternatives!
Melissa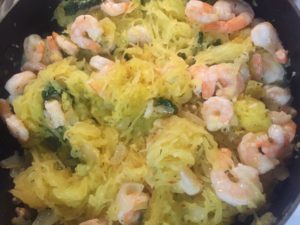 Recipe shared by Stephanie:
Ingredients:
-1 spaghetti squash
-1/2 to 1 tsp olive oil (estimate)
– 2 T minced garlic (I used the jar variety for this)
-salt and pepper
-2# raw jumbo shrimp, peeled and tails off (I actually used frozen/pre cooked and skipped the baking step for time)
-1T herbs de provence olive oil (could use regular) *I used 2T extra virgin olive oil and mixed in Herbs de Provence dried basil and gently heated it.
-1T garlic olive oil (could use regular)
-1/4 to 1/2 small onion diced
-1/4 cup sliced mushrooms (optional-I was out so I didn't use them this time)
-5-6 cloves of garlic minced
-1 tube of basil paste (I didn't have this so I used dried basil mixed in with the Herbs de Provence & the olive oil)
-1T lemon zest
-Juice of 2 lemons
-1 tsp Penzey's Florida seasoning (lemon pepper or similar would also work-I forgot to add this!)
-1/2 of fresh basil chopped (optional) *My fresh basil went bad, so I skipped this, and used some sautéed spinach. 
-Pam cooking spray
** all measurements are an approximation aside from the garlic oil and herbs de provence oil. I don't really measure my ingredients/seasonings when I cook**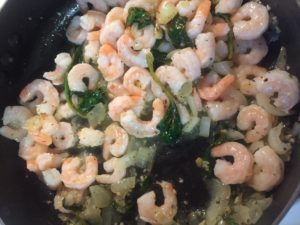 Preheat oven to 400 degrees F. Cut spaghetti squash in half and remove seeds. Drizzle with small amount of olive oil and salt and pepper. Place a tablespoon of minced garlic on foil lined cookie sheet and place one half of squash over top of garlic face down (rind up). Repeat with other half of squash. bake at 400 about 45 min to 1 hr or until you can poke rind with a fork. Once done, scrape insides with a fork into a bowl to form "noodles" and set aside.
Peel shrimp and season with salt and pepper. spray large skillet with Pam and cook shrimp in batches in a single layer until pink. place on plate and set aside.
Add garlic oil and herbs de provence oil to skillet and saute onions and mushrooms. Then add lemon zest and garlic and saute another 1-2 mins. Add 1-2 good squeezes of basil paste (most of tube) and lemon juice and stir to combine.
Once sauce is combined and heated, add squash and shrimp and Penzey's Florida seasoning (or Lemon Pepper-I actually omitted this and the flavor was still fantastic!) and stir to combine. Add fresh basil if desired.