Hi Everyone!
I hope you're ready for today's workout! This round of exercises will work your entire body, and can be repeated. There are 4 exercises each for arms, legs, core, and cardio. Also, the interval style of the workout increases the intensity and fat burning.
Go for maximum reps during each 50 second interval. You can also choose to do this workout for Repetitions. I like varying Rounds with a round of HIIT, a round of Repetitions, and finish with a round of HIIT. It varies the challenge for your body. Some workouts are more challenging as intervals, and some are more challenging when you go for reps. It's important to learn which technique your body responds to best. I like the switch up workouts styles so that my body is able to respond to a multitude of styles/challenges.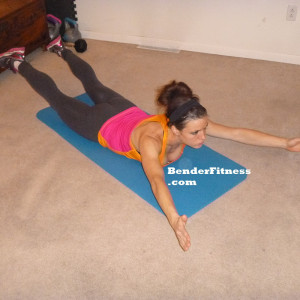 Have fun with this one!
Melissa
All Levels: Max reps during each 50 second interval, 10 seconds of rest between exercises
*During this workout I use a stability ball. If you don't have one, check out the tutorial video below for the alternative exercise.
1. Walking Pushups or Walking Spiderman Pushups
2. Tricep Dips
3. Dive Bombers
4. Static Reverse Plank (on forearms)
5. Ball Pull 
6. 1 Leg Squat Extension (right)
7. 1 Leg Squat Extension (left)
8. Wall Sit
9. V-Up/Hip Lift
10. Side Plank Knee Lift (right)
11. Side Plank Knee Lift (left)
12. Superman
13. Burpees
14. High Knees
15. 3 Way Frogger
16. Surfer Jumps
Repeat 1-3X
Optional: Pair with 30 Minutes Cardio of Choice