Hi Everyone!
It's time for another throwback workout! Today's workout is a full body routine. I use weights for the last two exercises. If you have weights available, use them to add to the challenge. I use a barbell, but you can also use dumbbells.
I completed this workout for reps, but you can challenge yourself by timing the workout & moving from one exercise to the next as quickly as possible.
Jesse and I teach a Boot Camp HIIT class this evening. We will be teaching a 60-Minute class. Our workout will consist of a 10-Minute Warm-up, 2 Rounds of 20-Minute HIIT (40-Minutes total), and a 10-Minute Cool Down. I am behind on filming our boot camp workouts, so I have a few new ones on our "To Film" list. I still do the full workout with the class (like I do in the videos with you), but I am modifying more exercises now.
I hope I can get my abs back to looking like they do in this workout video after Baby Bender is born! I'm almost 25-Weeks pregnant now, and my belly seems to be growing by leaps and bounds! I am looking forward to sharing a new workout program with you after the baby is born. In the mean time I am enjoying my baby bump.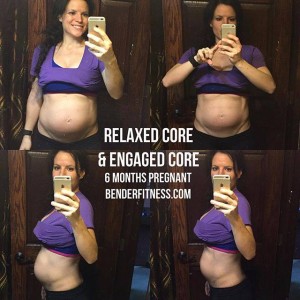 I have been monitoring for Diastasis Recti (abdominal separation) and so far I don't have any. I will be writing an article specifically on Diastasis Recti and Pelvic Floor exercises as soon as I have some free time. As an Occupational Therapist one of the areas I have trained in is Urinary Continence and Pelvic Floor strengthening. I am hoping to start an Outpatient program where I work after my maternity leave.
I love my job, but working full time, blogging, teaching two group fitness classes per week, running, and being pregnant hasn't left me with a lot of free time to get my To Do list checked off lately. It's all totally worth it because I love what I do, but I wish there were more hours to the day. Thank you guys for bearing with me, and being supportive as I share a lot of older workouts right now.
I hope you enjoy today's workout!
Melissa
For an added challenge go through the workout as quickly as possible with your Gymboss Interval Timer set to stopwatch. Do not sacrifice from for speed, but be sure to challenge yourself throughout the workout!
*If you want to increase the cardio burn you can add 60-seconds of Jump Rope or High Knees in between each exercise.
Beginner: 10 reps
Intermediate: 15 reps
Advanced: 20 reps
1. Supergirl Push Ups
2. Lunge Hop (right)
3. Lunge Hop (left)
4. Scissor Touch Abs
5. Prone Heel Press
6. Boat Tap
7. Bird Dog (right)
8. Bird Dog (left)
9. Single Leg Hip Thrust (right)
10. Single Leg Hip Thrust (left)
11. Bent Over Row
12. Good Mornings
Repeat 1-3X