Hi Everyone!
I teach a yoga class this evening, so today's workout is a Yoga Flow. One Round of this flow takes 20 Minutes, but you can repeat it, or choose to pair it with another Yoga Workout. It's been a busy workout week, so I am sure your body is ready to stretch and do a low intensity routine.
Yoga flows are wonderful because they work every muscle of the body, while simultaneously stretching and improving flexibility and blood flow. It can help improve your physical and psychological well being.
Sunday: 10-Minute Standing Workout: Abs, Thighs & Butt
Monday: 20 Minute HIIT Boot Camp: Core & More Fat Burn
Tuesday: Better Booty Home Workout
Wednesday: Fat Burning Core Workout & Plyo HIIT Fat Burn Home Workout.
Thursday: Yoga Stretch or Rest Day.
One of the most important aspects of yoga (which also applies to all other exercise as well) is improving your mind & body awareness. Keep yourself focused on each aspect of the pose/movement. Not only does this improve the physical benefits that you achieve during exercise, but it helps you to free your mind from worrying about the past or the future. Learning the ability to focus on just the present moment helps reduce stress and improve your ability to handle unexpected events.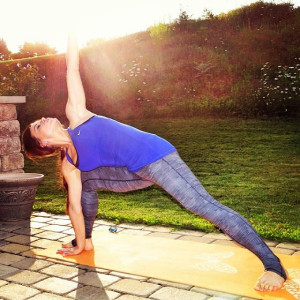 I hope you enjoy today's workout flow. Let me know how you are feeling on Instagram or Twitter: @BenderFitness or Facebook: www.facebook.com/MelissaBenderFitness
Melissa
Extended Side Angle Pose (variation)
Extended Side Angle Pose
Benefits: Can help relieve low back pain, sciatica, osteoporosis, menstrual discomfort and constipation. 
This pose works the ankles, legs, knees, groin, chest, shoulders, spine and abdomen.
Benefits: Strengthens the ankles, legs, shoulders and back. Tones the abdomen. Improves balance and posture. 
This pose works the thighs, hamstrings, calves, ankles, hips, shoulders, core and spine.  
Bridge Pose/Half Wheel Pose (variation)
Bridge Pose/Half Wheel Pose:
Benefits: Extends the thoracic spine, lengthens the hip flexors. Strengthens the legs, opens the shoulders and chest. Tones the upper-back muscles. This pose can help improve pelvic position and muscle imbalances caused from long periods of sitting. 
This pose can be used to reduce anxiety and build toward a full back bend. Are the front of your body lengthens and becomes more flexible you will be able to lift the chest more in this pose. This is a great pose for building strength and flexibility in the back. As flexibility grows you will be able to reach your hands closer to your heels.