Good Morning Everyone!
Today's workout Combo uses a stability ball. If you don't have a stability ball this workout is easily modified to be done without one so don't worry! Today's routine combines two 15 Minute HIIT workouts. If you do one round of each your total workout time will be 30-minutes. For a higher intensity burn complete each workout 2X for total workout time of 60-Minutes.
Focus on form with each exercise and warm-up for 5-10 minutes before your workout to maximize your results and decrease your chance of injury. Remember, warm-ups should always be dynamic (moving). Cool downs can be static (staying still and stretching). You don't want to stretch cold muscles. They aren't ready for it yet!
I didn't get to workout yesterday, and I can't wait to get in a good workout tonight. My body is missing the endorphins! I notice that when I don't workout my energy level suffers. Exercise actually gives me more energy and decreases my cravings for unhealthy foods.
I hope you enjoy today's workouts! Don't forget you can find me on Instagram & Twitter: @BenderFitness and on Facebook: www.facebook.com/MelissaBenderFitness.
Also, we are getting closer to the start of my New DietBet Challenge! If one of your goals is weight loss it is a great motivator. You have a chance to win money by achieving your weight loss goals! The point of the game is to lose 4% of your body weight over 4 weeks. Everyone who achieves this goal is a winner & splits the jackpot at the end of the game. To start the game everyone places a bet and that money goes in the jackpot. You can sign up here: www.dietbet.com/BenderFitness.
Have fun today!
Melissa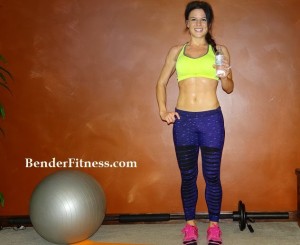 10/50 second intervals. 10 Seconds of Rest. 50 Seconds Max Reps.
1. High Knees
2. Elevated Leg Series (right)
3. Elevated Leg Series (left)
4. Dive Bombers
5. Angel Abs
6. Heel Tap Squats
7. Pendulum Squats
8. Walking Push Ups
9. Russian Kicks
10. Lunge Jump Kicks
11. Rolling Elbow Tap Plank
12. Heel Tap Abs
13. Burpee
14. Heel Tap Plank
15. Ball Pull or Frogger
Click the link to get your own Gymboss Interval Timer!
Set your timer for 15 rounds of 10/50.
1. Squat and Lift
2. Butt Lift
3. Ball Pull
4. Warrior Tap (right)
5. Warrior Tap (left)
6. Side Lift (right)
7. Side Lift (left)
8. Superman Lift
9. Leg Series (right)
10. Leg Series (left)
11. Curtsy Lunge (right)
12. Curtsy Lunge (left)
13. Balanced Prone Heel Tap
14. Goddess Squat Reach (right)
15. Goddess Squat Reach (left)
Repeat 1-3X