Hi Everyone!
If you're been following along with my workouts this week you are probably ready for a good stretch. It's time for a yoga flow. This series will work on your strength, flexibility and balance.
During yoga, one of the  most important things to remember is that you must listen to your body. While you should feel a stretch, none of the poses should hurt. You don't need to bounce or force any movements. Stretch into each pose, and respect what your body is capable of right at this moment. With consistent practice you will find that you are capable of more over time.
Yoga isn't about comparing yourself to any other person's capabilities, it's about respecting where you are right now, and building from that. It's a good life lesson. Even if today is the very first time you are attempting to workout (or the 3000th time), you are doing something that is wonderful for your mind and body. You are choosing to spend your time focusing on something that makes you healthier and stronger. During your practice try to focus on the movements & appreciate what you are capable of.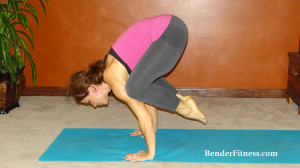 If you struggle with a pose don't stress over it. With time you will get it, and you can still be appreciative of the fact that you have the strength and determination to try something that is difficult. Willingness to try is a huge foundation for success.
I am filming new workouts this weekend, so you can expect some fresh new workouts from me in the upcoming week. I hope you have fun & enjoy today's yoga flow.
I also wanted to give a shout out to two of my friends who are now published authors.
My friend Sean Vigue wrote a great and accessible book called Power Yoga for Athletes. My best friend, Rose, has published her first poetry book, Camellia in Snow. They are both available on amazon and worth checking out.

Melissa