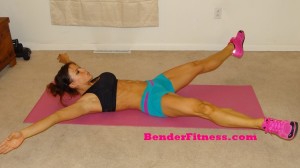 Hi Everyone!

This is a throwback workout that is fantastic for your core. It utilizes challenging moves that work your entire core to help you get a sculpted middle. 

This workout was filmed about a week after my first NPC Bikini competition, so seeing it is a good motivator for me! The last several months we have had many major life events happen and my workouts haven't been as consistent as I would like. 

To add another thing to the list of craziness, yesterday the brakes on my car failed while I was driving. It was a terrifying experience, but I am okay and managed not to hit anything. 

I intended to film a new workout tonight, but I came home from work utterly exhausted and took a much needed (3 hour!) nap. After the stress of yesterday I think my body needed the sleep more than a workout. 

So I will see you tomorrow when I get home from work with a new workout. In the meantime enjoy this one!
Melissa

PS You can find me on Facebook, Instagram, Twitter and Pinterest. Jesse has also been posting sneak peek workouts moves/tutorials on his Instagram page.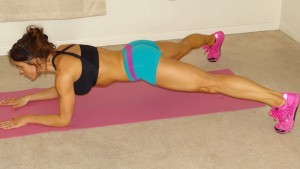 Beginner: 10 reps
Intermediate: 15 reps
Advanced: 20 reps

1. Plank Jack
2. Pendulum Squat
3. Temple Tap Abs
4. Pendulum Hop
5. Plank Crunch Pushup
6. Twisting Sumo Squat
7. Weighted Leg Lift Abs
8. Star Tap
9. Crab Toe Touch
10. Runner's Lunge Twist

Repeat 1-3X